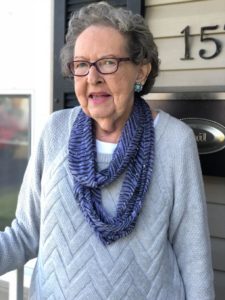 Marilyn V. Knauff
September 13, 1934 - February 7, 2020
Marilyn V. Knauff, age 85, of Peebles, Ohio, died Friday, February 7, 2020 at The Christ Hospital in Cincinnati. She was born September 13, 1934 in West Union.          She was preceded by parents, James H. Shell and Mary B. (West) Shell; husband, Walter G. "Shorty" Knauff; brother, James H. Shell, Jr. and brother-in-law, Hubert "Red" Knauff.

Marilyn is survived by five daughters:  Michele (Mike) Wilson of Dandridge, Tennessee; Kathy (Robin Lunsford) Knauff of Peebles; Kris (Mike) Brown of Peebles; Trish (Jim) Fraley of Peebles and Julie (Tim) Mislansky of West Chester; nine grandchildren:  Jarred Wilson, Adam Wilson, Christopher Brown, Josh (Heather) Brown, Johanna Fraley, Jessica (Josh) Johnson, Kamryn (Max) Craft, Joseph Mislansky and Mary Mislansky; four great grandchildren:  Jaxon Wilson, Payton Johnson, Bo Johnson and Kanon Craft; one nephew, Gary Shell of Cincinnati; one niece, Dewilda Little of Cincinnati and a special friend, Angie Raynard of Peebles.

She was a former library director at the Peebles Public Library.  She was a 1952 graduate of West Union High School.  She was a 1988 graduate of Southern State Community College and received an associate's degree in library science.  She was a member of the West Union Presbyterian Church.  She was a former Girl Scout leader at Peebles and Owensville.  She was a member of the American Legion Post 100 Ladies Auxiliary in West Union and a member of the D.A.R. – Sycamore Chapter.

Memorial donations may be made to the Peebles Public Library, 157 High Street, Peebles, Ohio  45660

The visitation is Thursday, February 13, 2020 from 5 until 8 PM at Lafferty Funeral Home in West Union and Friday from 12 until 1 PM at the West Union Presbyterian Church.

The funeral is Friday, February 14, 2020 at 1 PM at the West Union Presbyterian Church, 104 South Second Street, West Union under the direction of Lafferty Funeral Home.  Reverend Dr. David Sugarbaker will officiate.

The interment is Friday at West Union Cemetery.

Lafferty Funeral Home Incorporated of West Union is serving the family.
Condolences
Nora Ralston - Mar 27, 2020
Oh my Dear friend Marilyn I will miss you so much. You were always the voice of wisdom with a sense of humor.
Dewilda Little - Feb 14, 2020
Aunt Marilyn always seemed ageless to me. She was a natural beauty. Her kindness and soft-spoken voice I will always remember. She was a loving mother, daughter, wife, aunt, and friend. She and Shorty raised 5 wonderful loving daughters. Marilyn's gentle nature and love of life I know will never be forgotten. We will all miss you, Aunt Marilyn. What a joyous reunion there will be in Heaven when you reunite with our loved ones who have gone before you. Until we meet again, I love you. 💜
Marlis Hatton - Feb 12, 2020
My prayers and thoughts are with you all. May God be with you through these trying times.
Don Jackson - Feb 12, 2020
My sincere Sympathy. God Bless.
Phillip and Vicki C. Rhonemus - Feb 12, 2020
Dear Knauff Family, Keeping all of you in our thoughts and prayers at this time. We always remember Marilyn when she, Shorty, and the girls attended the West Union Presbyterian Church; also in her later travels with Hubert. Everyone also appreciates all she did for the libraries of Adams County. She will be missed. Sincerely,
Al & Pat Ison - Feb 12, 2020
A dear friend from The Owensville United Methodist Church . A very special person and our sincere condolences to all the family!
Elaine and John T Lafferty - Feb 11, 2020
Marilyn was one of the sweetest and most kind persons you would ever know, and she will be missed by all who knew her. We send our sincere sympathy to her family.