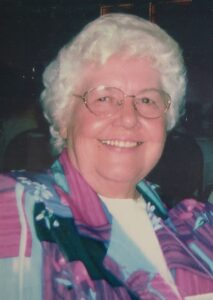 Marcella Jean Swearingen
January 21, 1930 - November 12, 2021
Marcella Jean (Evans) Swearingen, 91, of West Union, Ohio, died Friday, November 12, 2021 at Adams County Regional Medical Center in Seaman. She was born January 21, 1930 in Buena Vista in Scioto County to the late Louis "Buck" and Minnie Leola (Hayslip) Evans.  She is preceded by husband, Joseph Russell and husband, Grover Swearingen; two brothers: Harold Evans and Billie R. Evans.

She is survived by three children; Danny Joe Russell, Dottie Anne (Russell) McElroy and Susan (Russell) Haslam; six grandchildren; eight great grandchildren and five great-great grandchildren.

Jean was a 1947 graduate of West Union High School.  She spent 22 years in the banking industry, 20 of which was at the National Bank of Adams County. She was wonderfully saved at the Upper Blue Creek Tabernacle in February 1956. She enjoyed all of her time spent at many different churches and with many Christian organizations.

The public visitation is 12 – 2 PM Friday, November 19, 2021 at Lafferty Funeral Home Incorporated, 205 South Cherry Street, West Union, Ohio 45693.

The public funeral is 2 PM Friday, November 19, 2021 at Lafferty Funeral Home Incorporated.

The public interment is at West Union Cemetery, 9522 State Route 125, West Union, Ohio 45693

Lafferty Funeral Home Incorporated is serving the family.
Condolences
Patricia Dorton Whitaker - Nov 22, 2021
Danny, Dottie, & Susan-so sorry to learn of your mother's passing and that I was unable to come tell you in person. Please know that you and your families are in my heart and prayers.
Vicki and Phil Rhonemus - Nov 22, 2021
Dear Danny, Dottie, Susan, Danny, and All Swearingen Family, Keeping all of you in our thoughts and prayers at this time. Sincerely,
James & Melody Stapleton - Nov 19, 2021
Sending our Love and Condolences to the Swearingen and Haslam family. Jim & Mel
Dottie A McElroy - Nov 19, 2021
I Love you Mommie..