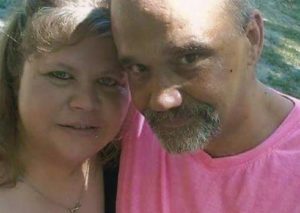 Marc O'Brien
August 16, 1974 - February 8, 2019
Marc O'Brien, 44, of West Union, Ohio passed away on Friday, February 8, 2019 at the UC Medical Center in Cincinnati, Ohio. He was born August 16, 1974 in Cincinnati. He was preceded in death by his grandparents, Billy and Herbert O'Brien, and brother, Gordon O'Brien.

Marc is survived by his parents, Chuck and Jakki O'Brien of Winchester, Ohio; children, Eric O'Brien of Cincinnati and Elyse O'Brien of Winchester; fiancé, Julie Whaley and daughter Abby of West Union; sister, Bekki O'Brien of Cincinnati; 5 grandchildren: Triston, Wyatt, Ashton, Preston and Raelynn O'Brien; mother-in-law, Janet (Ed) Owens; father-in- law, Chester (Naomi) Whaley, and several aunts, uncles, nephews, cousins and friends.

Marc was very active in church.  He was a member of the Bethany Ridge Community Church and had also attended the Riverside Church for many years.

Memorial donations may be made to Lafferty Funeral Home, Inc., P.O. Box 5, West Union, Ohio 45693.

The visitation is from 2 until 4 pm on Wednesday, February 13, 2019 at Lafferty Funeral Home in West Union. The funeral is at 4 pm with Pastor Joseph Dotson officiating. Cremation will follow the service.
Condolences
Julie ann whaley - Feb 14, 2019
Marc I love u so much...I get so angry..I dont understand why???...Greatest man I ever met....my vest friend
Dottie - Feb 13, 2019
So sorry for your loss. Praying for the family during these difficult times.
Melissa Bennett - Feb 12, 2019
To my family, I'm so sorry for our loss we lost a wonderful man, loving father, husband and friend. I know God has wrapped his arms around you and welcomed you. Please watch over our family and know you are loved and missed.
Savannah Reine - Feb 11, 2019
I wish I could have got to know you better. Both the times I met you, your smile was brighter than the sun and your heart thicker than gold. Please look over our family, and we will see you again one day!❤
Gina Walker - Feb 11, 2019
I love u Marc we were more like brother and sister at ur house every summer on weekends I'm so very sorry ur gone to early.
Bubbuh - Feb 11, 2019
Marc was like a brother to me 🙁 I loved him and Gordy so much. We even fought like real siblings. LOL I will always hold my many many memories close to my heart. Until we meet again, Brother... I love you !!!!!