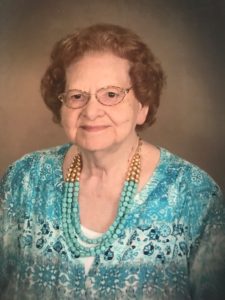 Lora Eileen McCleese
May 13, 1927 - March 6, 2020
Lora Eileen (Swearingen) McCleese, 92, of West Union, Ohio died Friday, March 6, 2020 at Hospice of Hope at the Adams County Regional Medical Center in Seaman. She was born May 13, 1927 in Manchester. She was preceded by parents, Herman Lewis Swearingen and Ocie Florence (Hardin) Swearingen; grandson, Ronald William Hughes; great grandson, Doc Allister Grooms; brother, Roy Swearingen and sisters: Bessie Sidwell and Murl Bradford.
Lora is survived by two daughters: Deedy Pistole of West Union and Roxanne (Ronnie) Hughes of Hillsboro; one son, Billy Joe Fetters of Decatur; ten grandchildren; twenty great-grandchildren; six great great-grandchildren; and several nieces and nephews.
She was the owner and operator of the former Lora's Cleaners in Ripley. She was also a caregiver for many years. Lora was an active member of the Georgetown Senior Citizens and an active church member for many years.
Memorial donations can be made to Hospice of Hope, Inc., 215 Hughes Boulevard, Mt. Orab, OH 45154.
The visitation is Friday, March 13, 2020 from 11 AM until 1 PM at Lafferty Funeral Home in West Union.
The funeral is Friday, March 13, 2020 at 1 PM at Lafferty Funeral Home in West Union. Pastor Alan Bolte and Minister Jim Bush will officiate.
The interment is at Decatur Cemetery at Decatur Cemetery Road in Byrd Township in Brown County.
Lafferty Funeral Home Incorporated, P.O. Box 5, 205 South Cherry Street, West Union, Ohio 45693 is serving the family.
Condolences
Suzie Mintkenbaugh - Mar 16, 2020
My sincere condolences to Lora's family. It was a pleasure to meet her when I drove for ABCAP. She will be missed. Prayers for all those that grieve her passing.
Phil & Vicki Rhonemus - Mar 14, 2020
Dear Reedy and Family, Keeping all of you in our thoughts and prayers at this time. Sincerely,
Marlene - Mar 12, 2020
I'm so so sorry for your loss, hugs and prayers to the family during this time of sadness.
Richard and Shirley Arn - Mar 12, 2020
We know you are all missing this sweet lady. Our love and prayers are with you. You have a great hope of seeing her again and that is the best comfort when one is in Christ.
Frieda Lewis - Mar 12, 2020
We will miss Lora. She has been a big part of our lives for our entire lives. She will be a bright star in Heaven.
Bettie & Charlie Grooms - Mar 11, 2020
Deedy, So sorry to hear about your mother. We will be thinking about you.
Chris Beam - Mar 10, 2020
Wonderful memories with her, Deedy, Roxanne, Andrea, and Jennifer at Deddy's house from my childhood. My deepest sympathies to each of you.