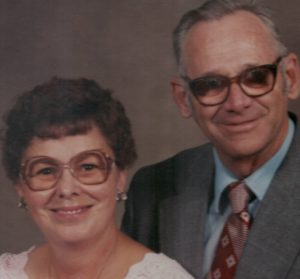 Lois (Hull) Young
January 7, 1931 - October 19, 2018
 Lafferty Funeral Home, Inc.                 Death Notice

205 South Cherry Street, West Union, Ohio 45693

Phone 1-937-544-2121         Fax 1-937-544-8496

Mothers are made in Heaven as we who love them know; with just a touch of stardust to keep their eyes aglow.  They have known tears as Heaven blesses the earth with rain.  They have known smiles as the sun shines after the shower again.  Mothers are made in Heaven.  Nowhere on earth there lies, the light like the glow of an angel, that shines in a mother's eyes.

Lois Marie (Hull) Young, 87, of West Union passed away on Friday, October 19, 2018 at the Adam County Manor in West Union, Ohio.  She was the only daughter of Junie Hull, born January 7,1931 in Cincinnati, Ohio.  She attended grade school at Wheat Ridge and graduated from Seaman High school.

On March 3, 1951 she was united in marriage to Burton Young, who was home on leave from the Army serving in Korea.  Burton was the eldest son of Lee and Ruby Young.  To this union was born three children; Dianna, Donald and Debra Young. Lois attended the Wheat Ridge Presbyterian Church until 1955 when they moved to West Union and became members of the First Presbyterian Church of West Union.  In September, 1960 she accepted the Lord as her savior and was baptized by Reverend Allan Garner and was a faithful member, serving as a Sunday School teacher, Bible School teacher, Deacon and Elder.  Burt and Lois were also leaders of the Youth Fellowship for several years.  They were 4-H leaders, members of the Antique Car Club and members of National Campers and Hikers Association and she belonged to Stonewall Grange, serving as different officers.  Lois retired in 1992 from West Union Elementary/High School after 25 years as a cook.

She was preceded in death by her mother, Junie; son-in-law, Bob Mitts and grandsons Bobby and Kevin Mitts.

She is survived by her husband of 67 years, Burton Young; daughters, Dianna Mitts, Debra (Melvin) Fannin, and son, Donald (Ruth).  Her three grandchildren: Jeremy (Jennifer) Young, Wendy Fannin-Rodriguez (Eric) and Leslie (Garett) Koehler.  Also 4 great-grandchildren; Josh Young, Elyse Rodriguez, Aralyn and Thaddeus Koehler.

The visitation is from 12 noon until 2 pm on Monday, October 22, 2018 at Lafferty Funeral Home in West Union.  The funeral service will follow at 2 pm.  Burial will be at Wheat Ridge Baptist Cemetery in Oliver Township.
Condolences
Reda Kay Whisman - Oct 23, 2018
So sorry for your loss, thoughts and prayers for family. May the Good Lord comfort your family.
Phillip and Vicki Rhonemus - Oct 23, 2018
Dear Burt and All Family, Keeping all of you in our thoughts and prayers at this time. Lois was a good friend to mom and dad and all of us, as were all of you. Lois will be missed. Sincerely,
Shirley Palmer - Oct 22, 2018
My thoughts and prayers for the Young family.
Dena Morris - Oct 22, 2018
Just learned of your wife/mother's passing. Wish I could be there in person this afternoon, but my thoughts & prayers are with you.
Mike Thruman - Oct 22, 2018
I am so sorry for your loss. Pray for peace during this time.
Russ and Donna Daniels - Oct 21, 2018
We are so very sorry for you're loss! Lois was such a wonderfully nice person. You have our sincere prayers and sympathies in the coming days ahead.
Jerry and Kim Combess - Oct 21, 2018
Our hearts are saddened to hear of your loss. May God help ease your pain.
Jan Faulkner - Oct 21, 2018
I'm sorry for your loss. You are all in my thought and prayers
Dwayne Jean Curless - Oct 21, 2018
you are in our thought and prayers
Ralph & Melinda - Oct 21, 2018
So sorry for your loss. Our thoughts and prayers are with you .
Amber Prather Dubbs - Oct 21, 2018
Thinking and praying for the family 🙏🏻