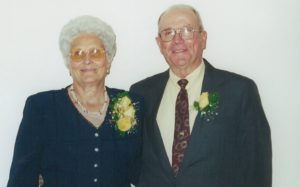 Lloyd Hayslip, Jr.
September 24, 1932 - April 5, 2018
Lloyd Hayslip, Jr., 85, of West Union, Ohio formerly of Lynx, Ohio passed away on Thursday, April 5, 2018 at the Eagle Creek Nursing Center in West Union. He was born September 24, 1932 in Hillsboro, Ohio. He was preceded in death by his parents, Lloyd and Ida (Price) Hayslip, Sr., wife, Emma (Cooper) Hayslip, daughter, Linda May, son, Roger Hayslip, brother Robert Hayslip, and sister, Gloria Fenton.

Junior is survived by his daughters: Connie (Phil) Blevins and  Patty (Jay) Shiveley, both of Lynx; daughter-in-law Tina Hayslip of Lynx; three sisters: Ocie (Ron) Bunch of Williamsburg, Kentucky, Janet (Joe) Risch of Marion, Ohio, and Carol (Ed Salsbury) Knauff of Seaman; three brothers: Tom Hayslip of Seaman, Ray (Patty) Hayslip of West Union, and J.B. (Shelda) Hayslip of Lynx; 11 grandchildren; 19 great grandchildren; 5 great great grandchildren, and many nieces and nephews.

Junior retired from DP&L after 20 years of employment. He had been a superintendent of the Adams County Water Company for 13 years. He was the owner and operator of Hayslip Trucking, and had worked for Hayslip Solid Waste for 7 years. Junior had many jobs during his lifetime.

Junior was a member of the East Liberty Community Church in Lynx since 1999. He was a member of the Ohio Laborers Union in Portsmouth. He was a 1949 graduate of Jefferson High School, and he had not missed one day of school in 12 years. He had also been President of the Jefferson High School Alumni. Junior was an avid fisherman and hunter.

Memorial donations may be made to East Liberty Community Church, c/o Patricia Spires, Treasurer, 396 Spires Road, West Union, Ohio 45693.

The visitation is from 11 am until 2 pm on Monday, April 9, 2018 at Lafferty Funeral Home in West Union. The funeral service will follow at 2 pm with Pastor Jason Hayslip officiating. Burial will be at East Liberty Cemetery in Lynx.