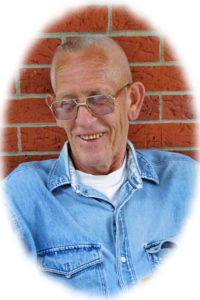 Lloyd Douglas (L.D.) Doyle
May 15, 1939 - April 20, 2019
Lloyd Douglas (L.D.) Doyle, 79, of Seaman, Ohio went Home to Glory on April 20, 2019. He was born May 15, 1939 in Fleming County, Kentucky to James Howard and Mary Isabelle (Power) Doyle. Besides his parents, he was preceded in death by his stepmother, Ellen Doyle; infant sister, Letha; sister, Joan Toller; brother, James, Jr., and brothers-in-law Charles Toller and Clayton Hester.

L.D. married the love of his life, Darlene (Raines)) Doyle on February 6, 1988 and God blessed them with 31 wonderful years together. Surviving to mourn his passing are his wife, Darlene; stepson, Mike (Karen) Hughes; stepdaughter, Cindi (Tim) Cannon; stepdaughter, Missy (Patrick) Danbury; 9 grandchildren; 9 great grandchildren; sisters, Shirley (Taylor) Williams and Jean Hester; brother, Larry (Brenda) Doyle; sister-in-law, Wanda Doyle, as well as a host of nieces, nephews, cousins and friends.

A devoted husband, a doting and generous grandfather, a great dad and a great friend, L.D. set a fine example with his work ethic, his humor and his integrity. He was loved by everyone who knew him and will be greatly missed.

The family would like to thank Dr. Bryan Grooms, Toni Martin,CNP, the staff at Adams County Regional Medical Center, OSU James Cancer Center, Dr. Megan Merrill, Dr. Aschi, Dr. Poynter, Dr. Nayak, Dr. Quraishi, Dr. Abbot-Smith, Dr. Albright, Adams County Homecare,and Hospice of Hope Ohio Valley for their kindness and care of our beloved L.D. throughout this past year. A special thank you, also, to everyone who prayed, visited, called, sent cards, brought food. Your thoughtfulness has been greatly appreciated.

In lieu of flowers, the family requests memorial donations be made to the Hospice of Hope Ohio Valley, 215 Hughes Boulevard, Mt. Orab, Ohio 45154, and/or ACRMC Auxilary, 230 Medical Center Drive, Seaman, Ohio 45679.

Pursuant to his wishes, L.D. will be cremated. The Celebration of Life service is Saturday, May 25, 2019 at the Seaman Presbyterian Church in Seaman.  Friends may come at 10 am and  the service is at 11 a.m.
Condolences
David W.Weaver - May 30, 2019
I had the good fortune to work with Lloyd for several years a long time ago but I have never forgotten what a truly good person he was. I am truly sorry for your loss; this World could really use more fine folks like Lloyd.
Phillip and Vicki Rhonemus - Apr 26, 2019
Dear Doyle Family, Keeping each of you in our thoughts and prayers at this time. Sincerely,