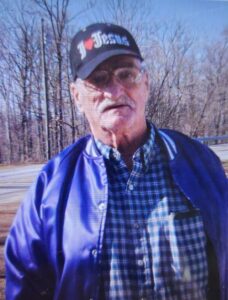 Leo Pollard, Sr.
January 19, 1937 - August 1, 2023
Leo Pollard, Sr., 86, of West Union, Ohio passed away on Tuesday, August 1, 2023 at Monarch Meadows Nursing Center in Seaman. He was born January 19, 1937 in Portsmouth. He is preceded in death by parents: Frank and Cornelia Pollard; one son, Timothy Pollard; two granddaughters: Brandie Jo Pollard and Julie Pollard; one sister, Betty Hayslip and two brother: Melvin and Robert Pollard.

Leo is survived by three daughters: Lucy Pollard of Gratiot, Jacqueline (Dale) Galliher of Brownsville and Rosalie Brown of Zanesville; one son, Leo Pollard, Jr. of West Virginia; several grandchildren, many great grandchildren and great great grandchildren; one sister, Imogene Seymour of West Union.

Leo enjoyed puzzle book, fishing, camping and working in his yard.  He spent many years working on the Lafferty Farm in West Union.

In lieu of flowers, donations can be made to:

Lafferty Funeral Home Incorporated

P.O. Box 5, West Union, Ohio 4569

937-544-2121

Mr. Pollard will be cremated.  There are no services at this time.

Friends can sign online condolences at www.LaffertyFuneralHome.com

Lafferty Funeral Home Incorporated serves the family.
Condolences
Shirley Pollard - Aug 25, 2023
Leo I miss you so much I love you very much 💋💋💋💋💋💋💋💋💋💋💋💋💋💋💋💋💋💋💋I was taken to the hospital I was cut that tree down that we going do I wish get it down I thank about you all time i look at your pictures all time I love you for my life.
nancy malone - Aug 15, 2023
rest easy my dear friend. im surely going to miss you so much. you always was so nice to everyone you came across. u was like a grandpa to me ill see you again my dear friend. rest easy until we meet again.
Tony and Karen Blanton - Aug 10, 2023
We are very sorry to hear of Leo's passing....prayers for the family
Bill, Sherry and Skylar Parks - Aug 7, 2023
Rest In Peace Leo, we will miss you.