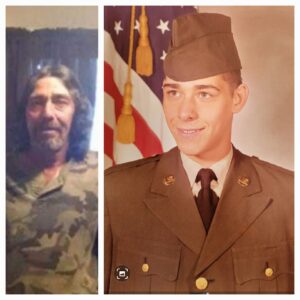 Larry Wayne Henderson
July 12, 1961 - July 28, 2022
Larry Wayne Henderson, 61, of Manchester, Ohio passed away on Thursday, July 28, 2022 at his residence. He was born July 12, 1961 in West Union. He is preceded by son Troy Wayne Henderson; father, Wendall Wayne Henderson; step father, Larry Vance and great niece Keaira Scott.

Larry is survived by son, Dylan Henderson of Manchester; mother, Brenda Vance of West Union; former spouse, Rhonda Henderson of Manchester; one sister, Glenda (Tim) Williams of West Union; two brothers: Kelly Henderson of Manchester and Wendell (Tina) Henderson of West Union; nieces and nephews: Kristin, Jessica, Leah, Danielle, Wendall, Kaleigh, Adriana and several others, numerous cousins, special friend, David "Thumpy" Thompson and many friends.

Larry was a dedicated father and loved his family.  He would help anyone in need. He enjoyed watching Nascar and football.  He leaves behind great love for his family and friends as those that knew him will never forget him. He was truly a wonderful father, son, brother, uncle and friend.

The public visitation is 11-1 PM Tuesday, August 2, 2022 at Lafferty Funeral Home Incorporated, 205 South Cherry Street, West Union, Ohio 45693.

The Adams County Honor Guard will perform a military service at 12 pm at Lafferty Funeral Home Incorporated.

The public funeral is 1 PM Tuesday, August 2, 2022 at Lafferty Funeral Home Incorporated. Pastor Dale Little will officiate.

The public Interment is at West Union Cemetery, 9522 State Route 125, West Union, Ohio 45693. .

In Lieu of flowers please make memorial donations to Lafferty Funeral Home Incorporated, P.O. Box 5, West Union, Ohio 45693.

Lafferty Funeral Home Incorporated serves the family.
Condolences
Raymond Seaman - Aug 1, 2022
I was saddened to hear about Larry's passing. I'm praying for the whole family. Some of the best times of my life was spent hanging out with Larry, and his whole family. He was a good man
Rhonda - Aug 1, 2022
Rest in peace Larry Wayne you will be missed
pam fizer timmer - Jul 31, 2022
Our sympathy to all of his family may God give you peace in this time of sorrow. Rest In Peace. The family of Estel Fizer
Diane Grooms - Jul 31, 2022
Larry you will be miss dearly by all that knew you. My Condolences to The Family and Friends and for his son Dylan Who always enjoy going to dad's house.. You will be remembered always and still have a hard time with you being gone...you wasn't ready to give up, because you always said got to have more time with your little man who you love with all your heart. Sure going to miss you Larry and our talks..now You can still watch over you little man who no doubt be lost without seeing you...
Brenda Nehus - Jul 31, 2022
Prayers and condolences to Larry's family 🙏🏻🙏🏻 He was a great guy and awesome classmate 😢
John Whaley - Jul 30, 2022
I was honored to know Larry..we served in National Guard together. Along with his dad wimpy.. My heart is saddened at his loss. God bless Larry's family.