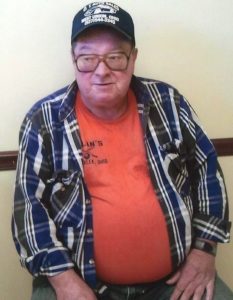 Larry Stephan Cook
May 28, 1950 - July 12, 2019
Larry Stephan Cook, 69, of Blue Creek, Ohio passed away on Friday, July 12, 2019 at Christ Hospital in Cincinnati, Ohio. He is preceded in death by his father, Orville Cook; mother, Inez (Lewis) Brewer; stepfather, Gus Brewer and brother, Richard Brewer.

Larry is survived by his daughters,  Stephanie Cook of Blue Creek and Brandi Cook of Batavia, Ohio; former wife, Ann (Mark) Baker of Batavia; brothers: Frank Cook of Blue Creek, Mark (Sheila) Brewer of West Union, Ohio, William Brewer of Marion, Ohio and Augusta Brewer of Jacksonville, Florida; grandchildren: Zane Cook, Shaila (Alex) Fitzgerald, Makayla Cooper, Justine Cook and Abigaile Reynolds.

Larry retired from Asplundh Tree Expert Company after more than 20 years of employment. He had also worked 15 years for Satterfield Surveying Company.

Larry will be cremated. A Celebration of Life service will be held from 3 – 7 pm on Friday August 2, 2019 at Moores Chapel United Methodist Church in Blue Creek.
Condolences
Makayla - Aug 23, 2021
Too My Dearest Grandfather. It has been 3yrs since you been gone and you have risen to a higher beautiful place that you are not hurting anymore! I miss you so much its unreal, People have been telling me to move on but I can't! You was my Best friend/Ali and a person to talk to when I was at my lowest and when I just needed someone to talk too. You was the most understanding person other than mom be understand and be there for me!! Your Grand babies Lilliana & Ranesamay are growing up so fast and when I hold up your picture I don't even have to tell Lilliana that its "papaw" because she already knows!!! And there might be another Grandbaby on the way by me and you Grandson that married me. Now I am a Married woman now papaw and I married the man you said that I was going to marry because we was right each other! and I did. its one of those nights that I need you and your not here only in spirit not in person!!! now we have two daughters and might have another on the way..... I love you papaw forever and always and you are never forgotten!!!! Goodnight Grandpa sweet dreams.
Phillip and Vicki Rhonemus - Aug 6, 2019
Dear Cook Family, Keeping each of you in our thoughts and prayers at this time. Not for sure if Larry was in the Class of 1970 or not from West Union High School. We do know some of you otherwise and will continue to hold you in our thoughts. Sincerely,
mark Brewer - Jul 30, 2019
To my brother I make this promise that you will never be forgotten Love You Bub