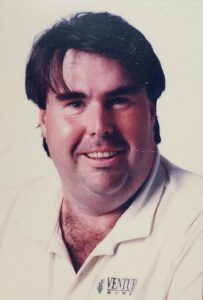 Kevin Glenn Palmer
January 12, 1962 - September 23, 2023
Kevin Glenn Palmer

On Saturday, September 23, 2023, Kevin Glenn Palmer, of Ellijay, GA, a loving son and devoted brother, passed away unexpectedly at age 61 in Atlanta, Georgia.

Kevin was born on January 12, 1962, in West Union, Ohio, to Harold and Lora (Keiber) Palmer. He was a J.D. Power award-winning builder for Venture Homes in Atlanta, Georgia, and a farmer in Winchester, Ohio, raising tobacco, dairy cows, and hogs. Kevin grew up on Cherry Fork Road and attended North Adams High School and Ohio Valley Vocational School, where he graduated in 1980. He played football, excelled at chess, played trombone in the marching band, and attended the Winchester Church of Christ in Christian Union.

Kevin was passionate about cooking and loved sharing his recipes with family and friends. He loved animals, especially his cat, Lily, and was a world traveler, having traveled extensively in Europe, where he made many friends. He was known for his quick wit, positive attitude, and kind and compassionate spirit. Kevin was also a survivor, having battled serious illnesses, including NF, for many years.

Kevin was preceded in death by his father, Harold (Diddy) Palmer. He is survived by his mother, Lora Palmer of Ellijay, Georgia; sisters, Teresa Palmer of Miamisburg, Ohio, and Gianetta (G.) Palmer of Cleveland, Georgia; and niece, Marlena Palmer, also of Miamisburg. Also surviving are special friends Lori, Kathie, Juan, Samone, Antonio, Whitney, Mashaya, Raven, and Treazure; and four aunts, an uncle, and many cousins and treasured friends.

Donations in his memory can be made to

the Necrotizing Fasciitis Foundation  at www.necfasc.org

or

Venture Productions at www.ventureproductions.org

11516 State Route 41, West Union, Ohio 45693, in honor of his late grandmother, Margaret Stephenson.



The visitation is 4– 7 PM Monday, October 2, 2023 at Lafferty Funeral Home Incorporated, 205 South Cherry Street, West Union, Ohio 45693.

The 2nd visitation is 1– 2 PM Tuesday, October 3, 2023 at Lafferty Funeral Home Incorporated.

The funeral is 2 PM Tuesday, October 3, 2023 at the Lafferty Funeral Home Incorporated.

The interment is at Cherry Fork Cemetery, 14113 State Route 136, Winchester, Ohio 45697.

Friends can sign online condolences at www.LaffertyFuneralHome.com

Lafferty Funeral Home Incorporated serves the family.


Condolences
Mia - Oct 5, 2023
Miss you already..