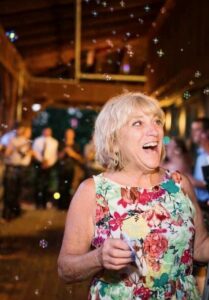 Kathy Satterfield Bernon
February 20, 1950 - November 22, 2022
Kathleen Jo "Kathy" Satterfield Bernon died Tuesday, November 22, 2022, at Riverside Methodist Hospital in Columbus, from injuries sustained in a fall. Her last days were a rolling Celebration of Life with well over one hundred fellow educators and friends sitting by her bedside, telling stories, recalling memoires of a life well-lived, and celebrating their dedications to the special needs children of Franklin County.

Kathy was born February 20, 1950, in Columbus, Ohio, the third daughter of Robert Earl "Bob" Satterfield and Martha Jane Sininger Satterfield. Bob and Martha reared Kathy in Peebles and West Union before sending her on to The Ohio State University where Kathy earned a double degree in Finer Arts and Psychology. At OSU, she was a member of the Kappa Kappa Gamma sorority and the Motor Board Honor Society.

Kathy began her career with the Franklin County Board of Developmental Disabilities in the min-70's as an Art Teacher with school age students in the school age program and later joined the Early Childhood Program substituting as a teacher working with toddlers who also had special needs. In the early 1990's, Kathy relocated out of state with her family, then returned to Columbus, Ohio rejoining the FCBDD Community in August 1996.  From 1996 until her retirement August 2014, Kathy made visible the image of the child who she valued in her heart as being full of possibilities.  She taught the staff, families, and the community how to engage children with all the possibilities found in materials and nature.  Kathy was a nurturer, teacher and had a true love for life and for the people in her life.  She leaves a legacy of honesty, love and true grit!

She was preceded in death by her parents, her brothers James and John, her sister, Mary Brodt and her niece Katie Brodt.  She is survived by her son Travis Bernon (Maria) and their children Alessia Bernon (Max), Olivia Bernon, and Dominic Bernon; by her daughter, Katie Ford (Brian) and their children, Asia Merriman (Jankire) and their son (Kathy's first great-grandchild), as well as by Malia, Maverick, and Beckett Ford; and by her daughter Kristen Pargeon (Kenny) and their children Stella and Asher Pargeon.  She is also survived by sister Caroline Satterfield of West Union; by sister Margaret Moss of Worthington; by niece Mardi Roberts (Matt) of Worthington and their children Sam, Ben, Liz, Mary, by nephew Lem Morrison (Salena) of New York City and their daughter Estelle; and by her friend and children's father David Bernon (Lynn) of Worthington.  She will be deeply missed by her many cousins and friends.

Kathy wished to be cremated with a marker placed in the family plot with her parents, grandparents, and great-grandparents in the West Union IOOF Cemetery.  The West Union Celebration of Life will be at the Lafferty Funeral Home, 205 S Cherry St, West Union at 1pm on Monday, November 28th with light snacks to follow.  The Columbus Celebration of Life will be 11-2pm on Saturday December 3rd at the Early Childhood Learning Center, 4141 Rudy Rd, Columbus.  We will provide a link to view the ceremony virtually for those that are unable to physically attend.

In lieu of flowers, please support an organization that improves the lives of children, especially those with special needs.

Her mother said of Kathy that there was never a bird nor beastie, child nor adult too damaged for Kathy to attempt to rescue.  We have all been drawn by her passion (and big watery blue eyes) into heeding the Great Teacher's call: "Truly I tell you, whatever you did for the one of the least of these brothers and sisters of mine, you did for me"

Lafferty Funeral Home Incorporated serves the family.


Condolences
Phil and Vicki Rhonemus - Dec 5, 2022
Dear Bernon and Satterfield Families, Keeping all of you in our thoughts and prayers at this time. Kathy was on the first Adams County Junior Fairboard with me, also very active in 4-H activities, and school activities. She will be missed. Sincerely
Robin Prather Lucas - Dec 1, 2022
Kathy was a one of a kind person. Her smile and laughter kept people calm and wanting to be around her. Our times on church hayride, at the River and just running into each other occasionally, are cherished memories. My heart and prayer are with her family.
Kris and Jenny Johnson - Nov 29, 2022
Please accept our sincere condolences.
Bob Blake - Nov 28, 2022
Family of Kathy Bernon you have my sincere sympathy
John T and Elaine Lafferty - Nov 28, 2022
We send our sincere sympathy to all of Kathy's family. We have happy memories of times shared on the Ohio River with her and her friends and family. She always had a smile!!