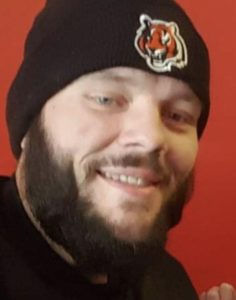 Justin Michael Cassidy
July 8, 1977 - March 26, 2020
Justin Michael Cassidy, age 42, of Liberty Township near West Union, Ohio, died Thursday, March 26, 2020 at home. He was born July 8, 1977 in Columbus.

Justin is survived by two sons:  Xavier Michael Cassidy and Austyn Lee Reeves, both of Youngstown; father, Timothy Michael Cassidy of Youngstown; mother, Alba Jean Chamblin of Portsmouth; step father, Randall Chamblin of Portsmouth; two brothers: Leo Patrick Cassidy of Youngstown and Stone Cantrell of Liberty Township; paternal grandmother, Sarah Holmes Cassidy of Arizona; former spouse, Sara Denise Pelfrey-Cassidy of Youngstown; one nephew, Connor Seth Cassidy of Portsmouth; two nieces: Asia Paris Renay Cassidy of Manchester and Ava Michelle Elliot of Batavia and many beloved family members and friends.

Justin was a graduate of West Union High School, class of 1995.

A memorial service will be held at the convenience of the family.

Lafferty Funeral Home Incorporated in West Union, Ohio is serving the family.
Condolences
Rusty & Dee Carver - Mar 31, 2020
Alba & Randall Just heard this on the radio so very sorry for your loss you have sympathy and condolences we are thinking about you Cora Rusty & Dee
Kathi Snow - Mar 30, 2020
I only met Justin once and noticed what a nice guy he was and what a beautiful smile. We are sending our condolences and hearts go out to Tim, Ingrid and All of Justin's Family Love , Kelly and Kathi Snow
Christopher S Music - Mar 30, 2020
Justin, I I first met him when he was a young kid he rode the bus when he lived over in Marshall he just was always smiling and made people laugh as years went by Justin always had a smile on his face he all ways treated me with respect and I did him the same we had hit eachother up on Facebook many times life so short Justin you will always be a brother godspeed my friend my heart goes out to the family.
Deb Colwell-Burgel - Mar 29, 2020
So sorry to hear about Justin, I have such fond memories of him, always smiling and such a sweet young man. My prayers are with his family.
Cathie and Rick Pesa - Mar 29, 2020
We were so sad to hear the news of Justin leaving this world. It is evident that he was deeply lived here on earth and will be loved until the end of time. Our hearts go out to you- if you need anything- call.
Ashley Green - Mar 29, 2020
I'm so sorry for the family's loss , and the many friends that Justin has , I feel lucky to have been one of his friends , Justin and I have been friends since I was 12 I'm 36 now , He in a way along with the rest of the fellas he hung around helped my mom with me growing up. He was a brother to me and in this loss has shattered I know all of our hearts , He was such a kind man , and his memory will be kept alive through us all of our many stories that we have with him. Because no matter if you knew him for yrs or only a moment you have a story and that Is one thing I loved the most. He was always there and always so much love to give. God Bless you all
Stephanie Cook - Mar 29, 2020
Prayers go out for the many family and friends. So sorry for your loss.
Jessica Burke - Mar 29, 2020
I miss you brother I'm glad that it's over now you have plenty of strength and energy where you're at just please don't forget to say hi to Michael tell him I love him and miss him you'll be forever missed I love you and he loves you and rest in peace forever your friend Jessica Burke
Brittney Smith-Dunn - Mar 28, 2020
May you rest in peace you'll never be forgotten bub. Love you. You were a true friend always kind.
Kathy Hanson - Mar 28, 2020
My deepest condolences to Justin's family and his many friends of which I am fortunate to be one. To me he will always be "Tiny" our wonderful body guard at Mothers Buzz concerts. He will be missed.
Angela (Crisci) Kinart - Mar 28, 2020
Uncle Tim and Family, I am so sorry to learn of Justin's passing. I remember Justin fondly and am thinking of you during this time of grief. Sincerely, Angela, Nick, and Roman Kinart