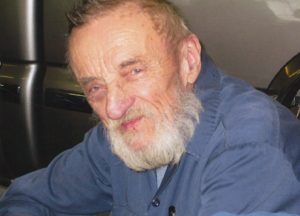 Junior Lacy
October 13, 1933 - March 25, 2019
Junior Lacy, 85, of West Union, Ohio passed away on Monday, March 25, 2019 at the Adams County Regional Medical Center in Seaman, Ohio. He was born October 13, 1933 in Oliver Township in Adams County. He was preceded in death by his parents, Marshall and Fern (Allen) Lacy, and brother, Forest Lacy.

Junior is survived by his companion, Rhonda Purdin of West Union; daughter, Ashley Purdin of West Union; son, Jeffrey Lacy of Connersville, Indiana; sisters: Juanita Barton of West Union, Dorothy Lacy of Mason, Ohio and Eloise VanHook of Loveland, Ohio; grandchildren: Madison Horsley of Lynx, Ohio and Paisley Moore of Blue Creek, Ohio; one nephew, one great nephew, one great great niece and one great great nephew.

Junior was an auto mechanic and operated Lacy's Garage for over 40 years. He was a Veteran of the US Navy.

The visitation is from 11 am until 12 pm on Friday, March 29, 2019 at Lafferty Funeral Home in West Union. The graveside funeral service will follow at Locust Grove Cemetery in Franklin Township in Adams County.
Condolences
Rhonda henderson - May 7, 2019
Sorry for you loss
Joshuna Alexander - Mar 30, 2019
I'm so sorry for your loss. There are no words anyone can say to take away your pain, but there is hope. God, in his word the Bible, promises to soon swallow up death forever and wipe away the tears from all faces. He also assures us that there is going to be a resurrection. God will bring our loved ones back to life! May the precious memories you have of Junior sustain you until you see him again. (Isaiah 25:8; Acts 24:15) - jw.org
Jimmy Crum - Mar 29, 2019
Sorry for your lost 🙏
Rosella Purdin Phipps - Mar 29, 2019
So sorry for your loss,Prayers for all. Junior will be missed.
Joshua Thacker - Mar 29, 2019
He was a very good man and laid down some of the finest paint jobs ever.
Russ and Donna Daniels - Mar 29, 2019
We are so very sorry for you're loss! Great man and great friend of my dads. Prayers and sympathies Russ and Donna Daniels
Dick & Joyce Huntley - Mar 29, 2019
So sorry for your loss. Jr. Was a friend & great customer for many years.
Ronnie & Jeanne (King) Grooms - Mar 28, 2019
So sorry for your loss. Jr. was a good neighbor and friend. Prayers for the family.
Don and Sarilee Williams, Chris, Ryan and Cherish - Mar 28, 2019
So sorry to hear. Jr was a good man and will be missed by many. We will be unable to attend the services due to working and prior engagement. Prayers for comfort as you say your goodbyes.
Jody mendenhall - Mar 26, 2019
A lot of good times,talks and plenty of dancing,card games..he taught Texas walker ranger those moves..gonna miss you lacy