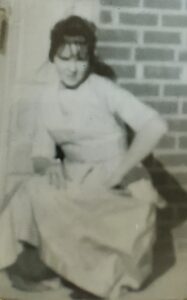 Judy Joan (Kinhalt) Paul
March 3, 1934 - June 21, 2020
Judy Joan (Kinhalt) Paul, 86, of Liberty Township in Adams County, Ohio died Sunday, June 21, 2020 at home. She was born March 3, 1934 in Stout.  She was preceded by parents, Ellsworth Kinhalt and Mildred (Harper) Allen; daughter, Dena Lane Taylor; granddaughter, Kristyn Breanne Taylor; sister, Shirley Bowling; two brothers: Marlin Kinhalt and Ronald Kinhalt; one son-in-law Richard Bennett and two brothers-in-law: Wes Baldwin and Bill Moore.
Judy is survived by adoring husband Larry E. Paul of Liberty Township; two sons:  Ron Paul of Ft. Meyers Beach, Florida and Larry Paul, Jr. of Liberty Township; four daughters: Melanie Bennett of Williamsburg, Kentucky, Melissa Murphy (Ralph) of London, Kentucky, Susie Mills (John) of Cincinnati and Brenda Barkaloo of Seaman; many grandchildren, several great-grandchildren; one brother, Clinton Glenn Kinhalt of Stout; two sisters: Carol Moore of Manchester and Sheila Baldwin of Manchester and many nieces and nephews.
Judy was a member of the Highway 32 Church of Christ in Williamsburg, Ohio.  Judy was a personal care aide and worked in home health care. She was a homemaker and raised seven children and five grandchildren. Judy loved and adored her husband and family.  Larry said Judy was his queen for 58 years and she is now his angel forever.
In lieu of flowers, memorial donations can be made to Highway 32 Church of Christ, P.O. Box 642, Williamsburg, Ohio 45176.
The
private
visitation is at Lafferty Funeral Home in West Union.
The
public
graveside funeral and interment is Friday, June 26, 2020 at 2 PM at Cherry Fork Cemetery on State Route 136 in Wayne Township in Adams County. Pastor Marc Curfman will officiate.
Lafferty Funeral Home Incorporated of West Union, Ohio is serving the family.
Condolences
Grandson numero uno - Mar 3, 2022
I Love and Miss you Grandma so so very much I feel you around me always, You were the graceful loving guardian angel in my story and I am forever grateful and extremely blessed to have been your grandson, Missing you dearly on your Birthday, and Love you all (family)** Remember life is precious please don't waste your experience being mad and miserable get out there and live your life, your possibilities are limitless and your heart knows the way.
Christine (Stephenson) Hutchins - Mar 3, 2021
Larry and family, So sorry to hear of Judy's passing. I'll always remember her as a sweet and kind person with a beautiful smile. My thoughts and prayers are with you all!
Mary Jane and David Paul - Jun 26, 2020
Our deepest sympathy
Phillip and Vicki Rhonemus - Jun 26, 2020
Dear Paul Family, We are keeping all of you in our thoughts and prayers at this time. Sincerely,
Kathryn - Jun 25, 2020
I am sorry I didn't get up to see you again. I hold the memories of you from when I was younger in my heart. May all of the family remember your love. "Like a bird singing in the rain, let grateful memories survive in time of sorrow." – Robert Louis Stevenson
Brenda - Jun 24, 2020
You were such a good Mom and we were all blessed to have you and you will be missed so much.
Faye - Jun 23, 2020
Loved Judy very much.I remember all the times we were together growing up.May God comfort each of you through this loss. My prayers are with you.
John T. And Elaine Lafferty - Jun 23, 2020
We send our sympathy to Judy's family