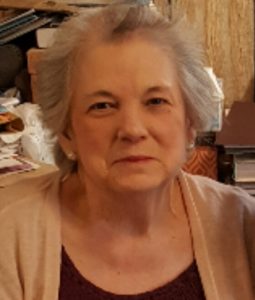 Judy A. (Osburn) Thornberry
May 20, 1947 - April 3, 2018
Judy A. (Osburn) Thornberry, 70, of Blue Creek, Ohio passed away on Tuesday, April 3, 2018 at Christ Hospital in Cincinnati, Ohio. She was born May 20, 1947 in Portsmouth, Ohio. She was preceded in death by her parents, Roy and Leoma Osburn, brother, Gary Osburn, and sisters, Linda Dixon and Janet Smith.

Judy is survived by her husband, Roger Thornberry of Blue Creek;  children: Roger (Laurie) Thornberry of Minford, Ohio, Denise Thornberry of West Union, Ohio, Melissa (James) Garcia of Canon City, Colorado, and Jason Thornberry of Indian River, Michigan; two sisters: Bernice O'Bryant and Helen Free; brother, Ronnie Osburn; 12 grandchildren; 5 great grandchildren, and many nieces and nephews.

Judy attended the Cedar Mills Community Church.  She loved spending time with her family, and sending cards to others was her special gift.

Visitation is from 11 am until 1 pm on Friday, April 6, 2018 at Lafferty Funeral Home in West Union. The funeral service will follow at 1 pm with Pastor Tim Daniel officiating. Burial will be at White Oak Cemetery near Cedar Mills.