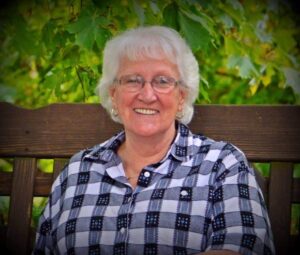 Joyce C. Grooms
June 23, 1944 - September 23, 2021
Joyce C. Grooms, 77, of New Vienna, Ohio, died Thursday, September 23, 2021 at her residence.   She was born June 23, 1944 in LaCarne, Ohio.  She is preceded by parents: Milford Wilburn, Sr. and Lucy Agnes Royster; step mother, Wanda Wilburn; one sister, Mary Ellen Grooms and three brothers in law: Jim Grooms, Sam Anderson and David Bennet.

She is survived by one son, Jeff Grooms of New Vienna; one daughter, Joanna Smith (Jeff Mercer) of Bainbridge; four grandchildren: Jeffrey Grooms, Kyle Grooms, Eryn Neyer (Joe) and Alysha Jester (Casey); two step grandchildren: Grant Mercer (Jasmine) and Hannah Tomer (Joey); one honorary grandson, Brian Young; twelve great grandchildren; two brothers: Dwayne Wilburn and Adam Wilburn; four sisters: Marie Anderson, Marsha Grooms; Wilma Miller (Bobby) and Rebecca Hodge; several nieces, nephews, cousins and friends.

Joyce collected angels and owls and enjoyed watching humming birds.  The most important thing to her was family.  She adored her children and grandchildren and had a special bond with many of her work friends.  She will be missed dearly.



The public visitation is 12 – 2 PM Tuesday, September 28, 2021 at East Liberty Church, Tulip Road, Lynx, Ohio 45650

The public funeral is 2 PM Tuesday, September 28, 2021 at East Liberty Church. Pastor Jason Hayslip will officiate.

The public interment is at East Liberty Cemetery.

Lafferty Funeral Home Incorporated is serving the family.


Condolences
ReSheena Shiveley - Oct 3, 2021
Michael H Blankenship - Sep 28, 2021
My deepest condolences to the family.
Carla - Sep 27, 2021
To family of joyce: She fought hard and long and I remember her smile when I've asked her how her kids were. I didn't know her personally but that smile said a lot. Glad she's no longer in pain
Audrey - Sep 26, 2021
Jeff and family: I am so sorry for the loss of your Mommie. Know that she is with the Angels in heaven where she belongs. Thinking of you!
Julie burris - Sep 25, 2021
Jeff ,Joanna and.family so sorry for.your loss i.loved joyce like my own aunt prayers and hugs love you all