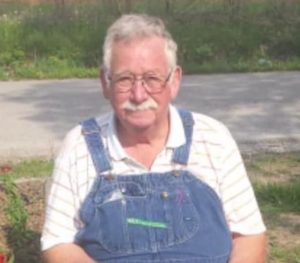 Joseph "Joe" West
March 12, 1939 - February 22, 2020
Joseph "Joe" West, age 80, of Lynx, Ohio, died Saturday, February 22, 2020 at Eagle Creek Nursing Center in West Union.  He was born March 12, 1939 in Marion, North Carolina.  He was preceded in death by parents, Gus Joseph West and Alma Irene (Condrey) West; wife, Bonnie Belle (Blevins) West; daughter, Christina Sue West; infant son, Matthew David West; brothers: Hoyt and Lee West; and sister Peggy Hamilton.

Joe is survived by one son, Joey West of Lynx, Ohio; three daughters; Brenda (Thayl) Zohner of Orlando, Florida, Carolyne West of Marion, North Carolin, Jo Ann (Troy) Evans of Lynx; seven grandchildren: Daniel Zohner, Brian Zohner, Katie Smejkal, Taylor Turgeon, Joelle Box, Dodge Evans, Annabelle Evans; sister, Linda (William) Howard; eleven great grandchildren, and one great-great grandchild.

Joe's greatest joys were serving God, his beloved wife, treasured children and family.  He enjoyed visiting many churches and was a member of Bethany Ridge Church near Lynx, until his health declined.  After moving to Eagle Creek Nursing Center, he made many new friends.  He enjoyed fishing, bluegrass music and humor.

In lieu of flowers or memorial donations, please take a child to church to learn about Jesus.

The visitation is Wednesday, February 26, 2020, from 5 until 8 pm at Lafferty Funeral Home in West Union.

The funeral is Thursday, February 27, 2020 at 1 pm at Lafferty Funeral Home in West Union.

The interment is Thursday at East Liberty Cemetery in Lynx.

Lafferty Funeral Home Incorporated of West Union is serving the family.


Condolences
Leanna Pollard - Feb 27, 2020
To all of the family of Joe, so sorry for your loss, he will be greatly missed.
Sandy B - Feb 26, 2020
So sorry for your loss. I sure will miss him!
Angela Powell - Feb 26, 2020
Heaven has gained a wonderful addition. I will miss you dearly Pap. I loved you like a dad and grandfather all rolled into one. I pray God gives everyone peace of mind that you are safe in his loving arms. R.I.P Pap until we all see you again in heaven.
Sheri Holsinger - Feb 26, 2020
The world has lost a great man. But heaven has gained a another angel. This man will forever be in my heart. Pap i cherish the time i was privileged to spend with you. The memories you shared with me, and all the wonderful stories. Your legacy will forever live on and i promise to pass on each and every story each time i get the chance! Love and miss you Pap....❤ (Susie Q)
Bayless Family - Feb 26, 2020
So sorry...our thoughts and prayers are with you..
Donnie & Julie Burris - Feb 25, 2020
We are so sorry for the loss of a great man bud will be missed by all who had the joy of knowing him. Prayers for all the family🙏
Melissa and Denver Noe - Feb 25, 2020
He will be missed by mine and love by all that new him. Was a friend to you a father figure to some he was a Grandpa figure to the little ones. Sorry for the family loss.
Judy Traylor - Feb 25, 2020
So sorry for your loss. He was such a great loving Man. And will be missed.
Michelle Taylor - Feb 25, 2020
Sorry for your loss, Such a sweet guy.
Carol & Tim Daniel, Sr - Feb 25, 2020
We extend our sympathy to all. May God give you comfort and strength!
Larry & Debbie Rothwell - Feb 25, 2020
We are praying for the family. Bub was a great guy we will miss him dearly.
Matthew Massengale - Feb 25, 2020
I am so sorry for your family's loss. Buddy was a good man and was thought very well of by my family. He will be missed. May the Lord grant you peace in this time of sorrow.
Michelle (West) McCall - Feb 25, 2020
I am very sorry for your loss. With deepest sympathy, Michelle
Emilie Gaddy - Feb 25, 2020
Carolyne - I am so very sorry to hear of the passing of your father. I remember many stories you shared about your dad and the farm. I know your family means the world to you. Please know that you and your family are in my thoughts and prayers for today and the days ahead. Emilie