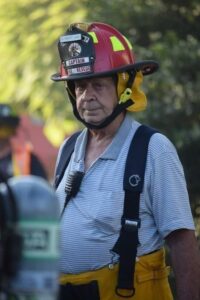 John L. Scott
December 12, 1939 - November 5, 2021
John L. Scott, Sr., 81, of West Union, Ohio died November 5, 2021 at his residence.  He was born December 12, 1939 in West Union.  He is preceded by wife, Louttie J. Scott; parents: Eugene Edgar Scott and Laura Francis Hill; four children: John Lee Scott, Jr., Ruby Allen, Robert Patrick, Rhonda McKienze; one step daughter, Vickie Dawson and two brothers: Jerry Eugene Scott and Douglas Junior Scott.

John is survived by seven children: Duane Edgar (Phyllis) Scott of West Union, Jimmy Scott of Manchester, Ashley (Stephen) Haddox of Clay City, Kentucky, Christa Darr of Savanna, Illinois, Patricia Marie (Ashley) Davenport of West Union, Davie Jacqueline Nichole Menke of West Union and Misty Dawn Chain of Ripley; several grandchildren and numerous great grandchildren.

John has been a Fire Fighter since 1970.  He was the Captain at Monroe/Manchester Fire Department and E.M.S.  He was a former truck driver for Jones Trucking in West Union.  He was a former tow truck operator for Richard Huntley's Towing Company.

The public visitation is 12 – 2 PM Thursday, November 11 2021 at Lafferty Funeral Home Incorporated, 205 South Cherry Street, West Union, Ohio 45693.

The public funeral is 2 PM Thursday, November 11, 2021 at Lafferty Funeral Home Incorporated. Pasor Joey Sandlin will officiate.

The public interment is at Manchester Cemetery, 813 East 8th Street, Manchester, Ohio 45144. The Adams County Honor Guard will perform a military graveside service.

Lafferty Funeral Home Incorporated is serving the family.
Condolences
TIM M CAUDILL - Nov 13, 2021
WE HAVE LOSS A GREAT PRESON ,FRIEND,FAMILY MAN ,GO REST HIGH BROTHER ON THAT MOUNTAIN ,NOW YOU CAN PLAY YOU GUTAR AND SING FOREVER MORE ,SO SORRY TO ALL YOUR FAMILY FOR YOUR LOSS ,MY THE ANGLES COMFORT YOU ALL.
Dorothy Williams - Nov 10, 2021
You were a good friend to my family. You and Roger played a lot of music together when he was alive.
Carey (Fee) - Nov 9, 2021
Rip Jonny. You was a great man of which I knew most of my life. Our families were very close. I miss your Mom Laura too. Now you can rejoice in heaven. Till we meet again old friend. Gone but never forgotten
Chester whaley - Nov 9, 2021
John was a verry nice man he sure will be missed I knew him since I was a little boy always had a smile on his fade didn't let anything drag him down but when his wife passed part of him left all I can say I enjoyed him while he was still here and I will miss his singing pray for the family