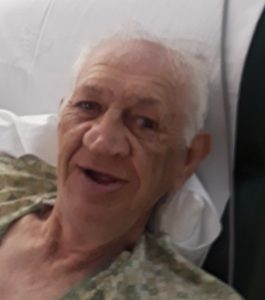 John Ezekiel Evans
April 1, 1948 - April 14, 2018
John Ezekiel Evans, 70, of Pensacola, Florida formerly of Blue Creek, Ohio passed away Saturday, April 14, 2018 at West Florida Hospital in Pensacola. He was born April 1, 1948 to the late Buster and Lula (Stepp) Evans. In addition to his parents, he was preceded in death by his brother, Joseph Evans, sister, Mary Hamm, and great granddaughter, Adalynn Coburn.

John is survived by five children:  David Evans of Blue Creek;  Ezekiel Evans, Billy Evans, Jackie Evans Horton, and April Evans Ramey all of Pensacola; siblings: David Evans, Timothy Evans, Martha Jones, Mattie Taylor and Naomi Kemmeter, all of Ohio; 19 grandchildren; 25 great grandchildren, and many nieces and nephews.

The Graveside Service is at 1 pm on Friday April 20, 2018 at Stepp Cemetery on Sunshine Ridge Road near Blue Creek.
Condolences
Stacey O. - Apr 25, 2018
Just wanted to say how sorry I am for your family's loss of John. He had a great smile, I'm sure he was very loved and will be very missed. Please know that God is suffering alongside you all. He longs for a time when John will be raised to a perfect mind, body and life in His paradise(John 5:28). Until that time, many thoughts and prayers for all who mourn John
JUDY & BRAD COX - Apr 19, 2018
WE ARE SO SORRY TO HEAR OF JOHNNY PASSING WE ARE SENDING OUR PRAYERS TO EACH OF YALL THRU THIS SAD TIME IN YOUR LIVES PRAYERS & LOTS OF HUGS 🙏💗 JUDY & BRAD COX