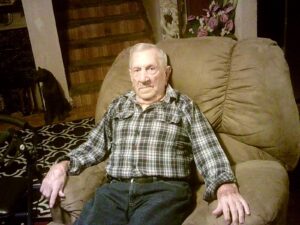 John Edward "JR" Pollard
May 12, 1923 - June 21, 2023
John Edward Pollard, 100, of West Union, Ohio, formerly of Dayton passed away on Wednesday, June 21, 2023 at his residence. He was born May 12, 1923 in Green Township in Adams County.  He is preceded in death by parents: John Franklin Lee and Ethel Ann (Evans) Pollard; one son, John E. Pollard, Jr; one daughter, Judy Pollard; first wife, Ruby K. (McCorkle) Pollard; second wife, Beverly A. (Lewis) McCorkle-Pollard; seven sisters: Anna, Alberta, Mamie, Minnie, Nelly, Bobbie Pollard and Betty Pollard Stephenson; four brothers: Lee, Fred, William T and Donald Pollard.

JR is survived by his three sons: George (Brenda) Pollard of Dayton, Larry Pollard of Dayton and John E. (Beverly) McCorkle of West Union; numerous grandchildren; many great grandchildren; several nieces, nephews and special girlfriend, Helen Brunton.

JR lived a wonderful life. He was a devoted family man and enjoyed spending time with his friends and family.  He enjoyed fishing in his younger days.  He was a very proud member of the U.S. Army and U.S. Navy.  He served during World War II and the Korean War.  He will be deeply missed by all that knew him.

The public visitation is 12– 2 PM Tuesday, June 27, 2023 at Lafferty Funeral Home Incorporated, 205 South Cherry Street, West Union, Ohio 45693.

The Adams County Honor Guard will perform a military service.

The public funeral is 2 PM Tuesday, June 27, 2023, 2023 at Lafferty Funeral Home Incorporated. Pastor Ricky Ross will officiate.

The public interment is at West Union Village Cemetery, 300 South Market Street, West Union, Ohio 45693.

Friends can sign online condolences at www.LaffertyFuneralHome.com

Lafferty Funeral Home Incorporated serves the family.
Condolences
Phil and Vicki Rhonemus - Aug 7, 2023
Dear Pollard and McCorkle Families, Continuing to keep all of you in our thoughts and prayers as you remember John. Sincerely,
Tonja Condray Klein - Jul 10, 2023
John was faculty at Timberlane Elementary School in the Northridge school district of Dayton Ohio. He gave me grief for me talking to my friends during lunch and nicknamed me "Motor-mouth". When my Dad Truman Condray would come for parent's day lunches, he and John would talk since they both were in WWII. Having John become part if my extended family decades later meant a lot to me personally, and my heart grieves for not seeing him to maybe laugh about my antics and his need for discipline due to his job that earned me the nickname I still am today. My condolences to his family and mine that knew him. John, I hope to see you again in Heaven, and this time I'll hug and thank you for putting up with that little blonde motor-mouthed girl that gave you so much trouble but who came to like you and respect you anyway! 🥰
Michelle Renee Pollard - Jun 26, 2023
It's gonna be hard saying goodbye to the one grandpa who was always there for us growing up.....I won't forget our fishing trips and our trips down to see family when we were still a whole family.....give grandma love for me and tell mom I miss her and give lots of love to your great grand daughter D'anna for me.....I'll miss you grandpa I love you......
Jon pollard - Jun 26, 2023
Thank you grandpa for being a strong man, overcoming your addictions and being the best grandpa in the world my siblings and I could of asked for, I will forever miss your sense of humor and will forever be grateful for all the times you took care of lacey dusty and I, p.s say hello to Grandma and bev for me, Love you forever and always and I will never forget you - Jonathan Michael Pollard
Pam Lewis Morris - Jun 23, 2023
I am so sorry for you great loss. Love and Prayers for family and friends. He is with aunt Bev now together again.
JohnT and Elaine Lafferty - Jun 22, 2023
We send our sincere sympathy to all of the Pollard family. JR had a remarkable life, leaving many memories for you to treasure.