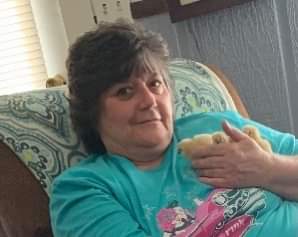 Joann (Unger) Campbell
January 14, 1966 - September 9, 2021
JoAnn B. Unger-Campbell, 55, of West Union, Ohio, died Thursday, September 9, 2021 at her residence.   She was born January 14, 1966 in West Union.  She was preceded by father, Howard Eugene Unger and sister, Deborah Unger-Deskins

She is survived by mother, Joyce Reed-Unger three daughters: Stephanie (Travis) Grooms, Tabitha (Darran) Kattine and Samantha Campbell; one son, Jonathan Campbell; boyfriend of over 30 years, Danny Carter; seven grandchildren: Logan, Payton and Adelyn Grooms, Jayden Baldridge, Kelsey Mack, Jayce Campbell and Kellan Kattine; two brothers: Randy (Tonda) Unger and Steve (Wendy) Unger; maternal grandmother, Betty Reed; nieces, nephews, cousins and friends.

JoAnn worked as an STNA at the Adams County Manor for 13 years.  She enjoyed the time spent attending The Gospel Lighthouse Chapel in Blue Creek. She spent time outdoors in her garden and mowing the yard. She was a dedicated mother, grandmother, daughter, sister and aunt.  She will be missed by all who knew her.

The public visitation is 12 – 2 PM Friday, September 17, 2021 at Lafferty Funeral Home Incorporated, 205 South Cherry Street, West Union, Ohio 45693.

The public funeral is 2 PM Friday, September 17, 2021 at Lafferty Funeral Home Incorporated. Pastor Chad Burns will officiate.

The public interment is at Moore's Chapel Cemetery, 2646 Wintersteen Run Road, Blue Creek, Ohio 45616.

Lafferty Funeral Home Incorporated is serving the family.
Condolences
Judy johnson - Sep 16, 2021
So sorry for your loss,
Darlene Moore (Quinne's mom) - Sep 16, 2021
I'm so sorry for your loss. Wish I could have gotten to meet her. May God wrap his arms around you all at this sad time.
Bernice Roe - Sep 15, 2021
Prayers For The Family
Rhonda Huffman Grooms - Sep 14, 2021
I'm so sorry to hear this sending many prayers and hugs to everyone.
Sarilee Williams - Sep 13, 2021
My heart is broken for the family. She loved you all so much and was loved by many. She will be missed. Thoughts and prayers.
Phillip and Vicki Rhonemus - Sep 13, 2021
Dear Campbell Family, Keeping you in our thoughts and prayers at this time. Sincerely,
JANET MACK - Sep 12, 2021
may the lord be with you all in this time of loss . remember the good times and the love that she had for all of you
Pamela groves - Sep 11, 2021
I am so sorry I am praying for the family Joann was such a sweet lady always polite and friendly going to miss her
Charlie & Bettie Grooms - Sep 11, 2021
So sorry to hear this. She was such a nice person at the nursing home. Charlie's mom, Mary H. Grooms, loved JoAnn because she was so nice and helpful to her. She will be missed by many.
Cheryl Francis - Sep 10, 2021
Rest in peace jo jo .. I'll never forget working with you at maca..we had some fun times...now your with our lord and savior...hope to see you one day..you'll never be forgotten my friend..prayers for your family..fly high jo jo
Julie setty - Sep 10, 2021
This still doesn't seem real… rest easy and keep them all in line up there
Sarilee Williams - Sep 10, 2021
Sympathy to the family. RIP sweet friend. You will be missed.