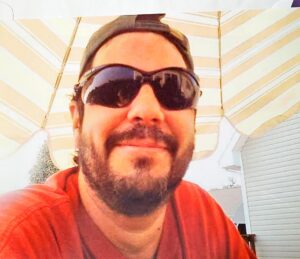 Jim Cummings
May 22, 1964 - November 26, 2021
Jim Cummings, age 57, of West Union, Ohio passed away November 26, 2021.  Jim is the son of Gene (Virginia) Cummings and the late Esther Cummings.

Jim leaves behind his wife of 40 years, Karen Cummings; one daughter, Natasha Grooms; two grandchildren: Jaylin and Joshua Grooms; two brothers: Danny (Janey) Cummings and Matt (Stephanie) Cummings; many nieces, nephews, great nieces, great nephews and many friends.

Jim was employed at Cincinnati Milacron for 35 years.

In lieu of flowers, contributions can be made to:

Jim Cummings Memorial Fund at The National Bank of Adams County.

A public visitation is 4 – 6 pm Thursday, December 2, 2021 at Lafferty Funeral Home Incorporated, 205 South Cherry Street, West Union, Ohio 45693.

Lafferty Funeral Home Incorporated is serving the family.
Condolences
Phillip and Vicki Rhonemus - Dec 6, 2021
Dear Natasha and Cummings Family, Keeping all of you in our thoughts and prayers. Sincerely,
cheryl daulton - Dec 4, 2021
So sorry to hear about Jimmy. My thoughts and prayers are with you. My son Bryan Daulton and Jimmy were friends and worked together at micron . they loved to play cards together. Bryan has been gone since 1997, and I still miss him everyday. I know the pain and sorrow that you are going through. If you ever just need to talk or anything please call me. Until you go thru this you will not understand the complete feeling of despair that you have. Prayers for all the family.
Dennis Nichols - Dec 4, 2021
Jim was a great guy, he will be remembered by so many friends and fellow employees at Milacron and so many of us currently retired. So sorry for the families loss.
Tom Steward - Dec 4, 2021
So sorry to hear about Jim. He will be missed by many. Prayers to the Family!
Forrest ( Dort ) Shiveley - Dec 2, 2021
So sorry for your loss. Will miss him speaking as he went by the house.
Crystal Hughes ( Lawhorn) - Dec 2, 2021
I'm so sorry to hear this. I'm praying for comfort for all of you and sending love.
Edwina Buron, Judy Lawhorn & Denise - Dec 2, 2021
So sorry to hear. May your memories comfort you. With heartfelt sympathy.
Rudy Diskete - Dec 2, 2021
Sure shocked to here about Jim. Our thoughts and prayers are with you and the family.
Ronnie Butler - Dec 1, 2021
Our deepest sympathy for the entire family, thoughts and prayers are with you.
Judy Ralston Laney - Dec 1, 2021
Sorry for your loss. Thoughts and prayers to your family
Randie and Jean Bolender - Dec 1, 2021
Keeping your family in our thoughts and prayers! May God Bless You!