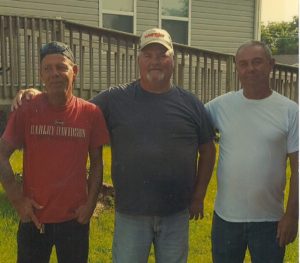 Jerry Grooms
July 18, 1958 - April 11, 2018
Jerry Grooms, 59, of West Union, Ohio passed away on Wednesday, April 11, 2018 at the home of his daughter in West Union. He was born July 18, 1958 in West Union. He was preceded in death by his granddaughter, Page Grooms.

Jerry is survived by his children: Marlenea Spencer of West Union, Rosemary Grooms of Mt. Orab, Ohio, Lester (Heather) Grooms of Blue Creek, Ohio and Jody (Anna Moore) Unger of West Union; six step-children: Marlena Crutchfield of Decatur, Ohio, J.D. Riley of Peebles, Ohio, Melissa Thorton of Cincinnati, Ohio, and Dusty Miller, Ricky Riley, and Christina Bentley all of West Union; parents, Carl "Hop" and Goldie (Clifford) Grooms of West Union; four sisters: Anna Lou Hayslip, Robin Grooms, Cathy Knox all of West Union, and Charlotte Mahon of Mt. Orab; two brothers: Lonnie Grooms of Lynx, Ohio and Charles "Bussy" Grooms of West Union; 16 grandchildren, and many aunts, uncles, nieces and nephews.

Jerry attended the Boyd Avenue Community Church in West Union when his health permitted. He will be remembered by his family as a loving, caring man.

In lieu of flowers, the family would appreciate memorial donations be made to Lafferty Funeral Home, Inc., 205 South Cherry Street, West Union, Ohio 45693

The visitation is from 6 until  8 pm on Monday April 23, 2018. The funeral service will be 1 pm Tuesday April 24, 2018 with visitation from 12 until 1 pm.   Pastor Bill Myers will officiate.  Burial will be at West Union Cemetery in West Union.
Condolences
Rev.Volley W.Reed - Apr 23, 2018
I was glad to hear that he got saved. I will be praying for the family.
connie myers - Apr 23, 2018
I love you and will always carry your memory in my heart my thoughts and prayers are with the family.