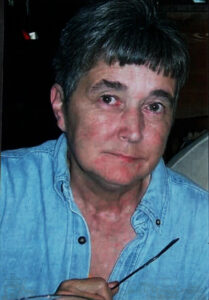 Jeanie Marie Sullender
June 18, 1955 - July 29, 2020
Jeanie Marie Sullender, age 65, of Aberdeen, Ohio, died Wednesday, July 29, 2020 at home.  She was born June 18, 1955 to the late George Russell Lemons and Sarah Agnes Boldman in Cincinnati. Jeanie is preceded in death by husband: Johnny Augustus Sullender.

She is survived by three daughters: Leona Sullender of Aberdeen, Rebecca  Harrison  (Dewey) of Brooksville, Kentucky and Mary Redden (Jerry) of Aberdeen; one son, Johnny Sullender (Diana) of Manchester; mother, Sarah Boldman of West Union; one sister, Rosemary Miller of Winchester, one brother-in-law, James Sullender (Levonne) of Greenfield; five grandchildren: Stephen Routt, Alexis King, Alexis Sullender, Brittany Redden and Johnny Redden; several nieces, nephews and great nieces and nephews.

She was a Walmart associate in West Union for eight years.  She was an employee of the former Prather's I.G.A. in West Union and a former employee of Frisch's Big Boy in West Union.  Jeanie attended Winchester high school.  She loved sewing, crocheting and spending time with her family.

The public graveside visitation is Sunday from 1 until 2 pm, August 2, 2020 at Kirker Cemetery on State Route 136 in Liberty Township in Adams County  with the funeral following at 2 pm.

Lafferty Funeral Home Incorporated in West Union, Ohio is serving the family.


Condolences
Connie Welch - Aug 3, 2020
So very sorry for your loss !! Hugs & prayers to all. Jeanie will be missed by all who knew her. May she rest in peace!!
Christopher Beam - Aug 2, 2020
My deepest of sympathies. She was a wonderful lady.
Rebecca Hodge - Aug 2, 2020
Sorry about your loss,worked with her at Walmart, she was a nice person
Lana Chandler - Aug 1, 2020
So sorry for your loss..sending my thoughts n prayers
Denna, - Aug 1, 2020
Rebecca, Leona, so sorry for your loss, prayers to you both and your family members.
Patsy Roberts - Aug 1, 2020
So sorry to hear this, we were growing up
John T. And Elaine Lafferty - Aug 1, 2020
We send sincere condolences to Jeanie's family. She will be missed by all who knew her.