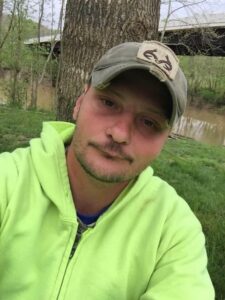 Jason Grooms
December 23, 1982 - May 8, 2023
Jason Grooms, 40, of Cedar Mills, Ohio passed away on Monday, May 8, 2023 at his residence. He was born December 23, 1982 in West Union.  He is preceded in death by father: Reverend Ronald Grooms; paternal grandparents: Virgil and Ocie Grooms and maternal grandparents: Earl and Marjorie Nesbitt.

Jason is survived by his mother and step-father: Wanda and Junior Grooms of Peebles; one daughter, Jaylin Grooms of Cedar Mills; one son, Joshua Grooms of Cedar Mills; three siblings: Kelly (Trish) Grooms of Lynx, Lisa (Greg) Ruckel of Winchester and Debbie (Larry) Rothwell of Cedar Mills; special nephew, Justin Thoroman of West Union; special great niece, Zoey Thoroman; several other nieces, nephews, cousins and special friends: Mitch Rothwell, Terry Whaley, Roy Clifford and Michael Durbin.

Jason had a good heart and loved his family dearly. He was a member of the Bethany Ridge Church.  He worked at Ellis Farms in West Union and enjoyed playing his guitar, music, fishing and spending time outdoors.

The public visitation is 12– 2 PM Friday, May 19, 2023 at Lafferty Funeral Home Incorporated, 205 South Cherry Street, West Union, Ohio 45693.

The public funeral is 2 PM Friday, May 19, 2023 at Lafferty Funeral Home. Pastor Chester Whaley and Terry Whaley will officiate.

The public interment is at East Liberty Cemetery,2938 Tulip Road, Lynx, Ohio.

Friends can sign online condolences at www.LaffertyFuneralHome.com

Lafferty Funeral Home Incorporated serves the family.


Condolences
Doris Bayless - May 20, 2023
Forever in our hearts
Ericka D Barlow - May 18, 2023
So sorry for your loss thinking of you and kids
Peggy matheny - May 16, 2023
Wanda I'm sorry for the loss of your son
Cleo and Jeff Fenton - May 16, 2023
Please accept our sympathy.