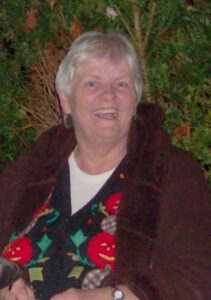 Janis M. Buda
December 16, 1947 - February 1, 2021
Janis Mae Buda, age 73, of West Union, Ohio, passed away Monday, February 1, 2021 at her residence.  Jan was born December 16, 1947 in Columbus.  She was preceded by parents, Paul George and Leola Mae (Denny) Pearon.
Jan is survived by loving husband, Raymond Buda of West Union; two sons: Jason Buda (Mindy) of West Union and Justin Buda (Kitten) of West Union; eight grandchildren: Landon Leonard of West Union, Tason Buda of West Union, Apriella Buda of Columbus, Killian Buda of Columbus, Tucker Buda of West Union, Sawyer Buda of West Union, Atticus Planck-Buda of Columbus and Maelynn Buda of West Union; two brothers: Paul Pearon (Sandy) of Peebles and Joel Pearon (Joan) of Amelia; several nieces and nephews and countless friends.
Jan was truly a pillar of the community; she taught school for 33 ½ years at the former Jefferson School and West Union Elementary.  Even after retiring, she remained a substitute teacher for another nine years.  She adored her students, colleagues and teaching.  A smile was always present when she saw former students and their families.  She was always involved with her sons' and her grandchildren's activities, boy scouts, band, sports, school and church plays and other events they took part in.  She was a life time member of the West Union Presbyterian Church.  She also enjoyed her time spent at Church 180 during the last year. Even though Christmas was her favorite holiday she enjoyed passing out candy at Trick or Treat during the Halloween season.  Jan was an avid Andy Williams fan and collected dolls and angels.  She was a member of card club and cherished the time spent with friends.  Jan was a dedicated person and there was nothing more precious than the time she spent as a wife, mother and meme.
In lieu of flowers, memorial donations can be made to:
The Janis M Buda Memorial Education Fund,
429 East Walnut Street, West Union, Ohio 45693
The
public
visitation is 5 – 8 PM Friday, February 5, 2021 at Church 180, 2556 Moores Run Road, Seaman, Ohio 5679.
The
public
funeral is 2 PM Saturday, February 6, 2021 at Church 180, 2556 Moores Run Road, Seaman, Ohio 5679.  Pastor Michael Parks will officiate.
The
public
interment is at West Union Cemetery, 9522 State Route 125, West Union, Ohio 45693.
Lafferty Funeral Home Incorporated is serving the family.
Condolences
Bill and Martha McHenry - Feb 9, 2021
So sorry to learn of your loss.
Diana Mowery King - Feb 7, 2021
Jan was a classmate and friend from WUHS class of '65. I remember her as a gentle soul who was soft spoken and kind to all. Rest in peace my friend.
Nancy malone - Feb 6, 2021
RIP mrs buda I will sure miss ur smile u was a loving teacher who I loved so much.
Jeanne Wayt - Feb 6, 2021
I was so sad to read of Jan's death. She and I were roommates for a year at Morehead State University. I will keep you all in my prayers and pray that God surrounds you with peace. She was a wonderful lady!
Connie Leinberger - Feb 6, 2021
I am so saddened to hear of Jan's passing. I am a friend from Morehead. We all had many wonderful memories of Morehead and Jan! The memories continued with all of our weddings, the birth of our children and then our teaching careers! Such a warm sweet smile! Rest In Peace Buddy!
donald & Julie Burris - Feb 5, 2021
We are so sorry for your families loss
Carol & Tim Daniel - Feb 5, 2021
We extend our deepest sympathy to all of the family. Prayers that God will give each of you strength and comfort during this time and in time to come.
Jay C. Prather - Feb 5, 2021
Very sorry to hear this. Jan was always nice to me. My thoughts and prayers are with her family.
Phillip and Vicki Rhonemus - Feb 5, 2021
Dear Buda/Pearon Families, Keeping each of you in our thoughts and prayer at this time. I first met Jan when we moved to Adams County and began attending the WU Presbyterian Church. Her mother was the Sunday School teacher and Jan and Jim, at that time, were in the Junior Choir that Jane Harsha directed. My sibling and myself were also members of this group. We still saw her throughout the years and later, as peers with the Adams County Ohio Valley Schools. She always had a friendly word and liked to reminisce of bygone days. Of course, Vicki had some of the grandchildren in preschool as well. She will be missed by all. Sincerely,
Robin Lucas - Feb 5, 2021
Ray, Jason, Justin and families, I am so very sorry to hear of Jan's passing. She always put her family and church first. I will miss seeing and talking with her on the Sundays she attended the church we grew up loving.
Tom Sommers - Feb 5, 2021
Was so sorry to see Jason's posting on Monday. Your mom liked to laugh, and she had a sarcastic side. I remember visiting her first WU apartment when she lived catercorner from the Pres Church in WU and recall when she and Ray moved from AZ to WU. Since I used to babysit Jason, I spent many times in the house behind Martha Satterfield's and was with Jason at Mae Pearon's when Jan was/just had given birth to Justin. Your family was a huge part of my growing up years. Hugs to all.
George Thompson - Feb 5, 2021
A much loved member of the WUHS Class of 1965. I never heard anyone say anything negative about Jan. Lots of good memories. The world's a better place because Jan was in it!!❤️
Christopher Beam - Feb 4, 2021
Our deepest sympathies. Jan was a very special lady. Many memories to always remember. It seems like I can't look back and remember a time Jan was not in it. May you all find comfort during this difficult time.
Belinda Sininger - Feb 4, 2021
Jan was my classmate, 4-H assistant, education co-worker, and my friend. Rick and I hope her memory will bring comfort to the family and friends in the days ahead.
Jo Ann Miller and Joy Miller-Fite - Feb 4, 2021
Our deepest sympathy.