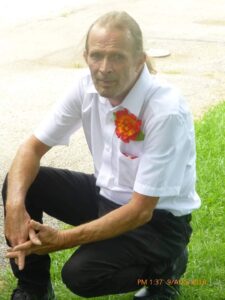 James "Shorty" Lockhart
September 24, 1966 - September 27, 2023
James "Shorty" Lockhart, age 57, of Peebles, Ohio passed away on Wednesday, September 27, 2023, at his residence. He was born September 24, 1966 in Columbus.  He is preceded in death by his father, Huey Winlow Lockhart and one son, James Robert Lockhart, Jr.

James is survived by his mother, Anna Ruth Davis; three daughters: Kristin Lockhart of San Antonio, Texas, Krystal (George) Shanor of West Union and Beth (Steven Edmisten) Lockhart of Peebles; one brother, Daniel Lockhart of Peebles; three sisters: Margaret Webb of Seaman, Ann (Robert) King of Athens and Brenda Smith of Mt. Vernon; three grandsons: Carson Lockhart, George R. Shanor and Daniel Shanor; one niece, Charissa Webb; one nephew, Charles Webb; one great niece, Kymora Webb and three great nephews: Dominic Webb, Damon Webb, and Cameron Jett.

James was a very hard worker, working in sawmills, pouring concrete, making counter tops.  He had to stop working due to a stroke in 2011.   He loves his family dearly and will be missed by all who knew him.

The visitation is 11 – 1 PM Monday, October 2, 2023 at Lafferty Funeral Home Incorporated, 205 South Cherry Street, West Union, Ohio 45693.

The funeral is 1 PM Monday, October 2, 2023  at the Lafferty Funeral Home Incorporated. Pastor Jim Shumauch will officiate.

The interment is at Evergreen Cemetery, 3834 Steam Furnace Road, Peebles, Ohio 45660.

Friends can sign online condolences at www.LaffertyFuneralHome.com        Lafferty Funeral Home Incorporated serves the family.
Condolences
Becky - Sep 29, 2023
I loved you you was my friend . People lose touch but it don't mean they don't love miss or care . Prayers to your family Fly High shorty where ever you may roam