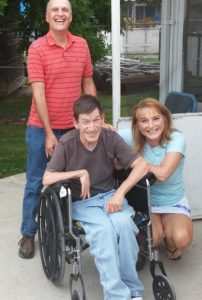 James "Jim" Moore
June 1, 1952 - July 26, 2018
James "Jim" Moore, 66, of Beverly, Ohio formerly of Manchester, Ohio died Thursday, July 26, 2018 the Muskingum Nursing and Rehabilitation Home in Beverly. He was born June 1, 1952 in Stout, Ohio. He was preceded in death by his parents, Oscar and Violet (Rogers) Moore and brothers, Oscar, Jack, Henry, Joe and Dan Moore.

Jim is survived by his sister, Martha Unger of West Union, Ohio; brother, Richard "Dick" Moore of Fullerton, California; seven nieces and nine nephews.

Jim spent the majority of his life residing in the Adams County area.  His childhood days were spent in Manchester and West Union. As an adult, Jim resided in assisted and supportive living communities. He enjoyed being a part of Venture Productions, making friends there and feeling he was part of a family and community.

The Memorial Service will be 6 pm Friday, August 3, 2018 at Lafferty Funeral Home in West Union.
Condolences
Anonymous - Aug 23, 2018
R.I.P
MN - Aug 5, 2018
I am very sorry for your loss . Losing a loved one in death is such a difficult thing to experience . Please be comforted by the promises in the Bible . Jesus tells us at John 5 : 28 , 29 that all those in the memorial tombs will hear his voice and come out . What a loving provision put in place by the God of all comfort so we can have the assured hope of seeing our dead loved ones live again one day . Meanwhile as I pray for that day to come I ask Jehovah God to bless your family and give each of you the strength to endure this most trying time . For more Bible promises please visit jw.org .