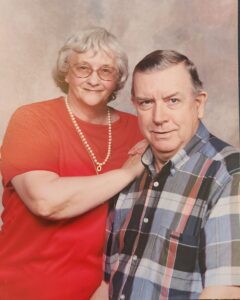 James D. Moore
March 18, 1931 - August 26, 2023
James D. Moore, 92, of Seaman, Ohio passed away on Saturday, August 26, 2023 at his residence. He was born March 18, 1931 in Richlands, Virginia.  He is preceded in death by wife, Maude Ellen Moore and parents: Lewis and Elsie Mae Moore.

James is survived by two sons: Jim (Sherry) Moore, Jr. of Seaman, Richard (Mary Jane) Moore of Seaman; one daughter, Barbara (Tom) Vanhorn of Columbus; numerous grandchildren, many great grandchildren and several great great grandchildren.

James was a hardworking, honest, loving Christian man.  He attended the Tranquility Community Church in Tranquility.  He will be missed by all that knew him.

The public visitation is 11– 12 PM Wednesday, August 30, 2023 at Lafferty Funeral Home Incorporated, 205 South Cherry Street, West Union, Ohio 45693.

The public graveside committal is 1 PM Wednesday, August 30, 2023 at Mt Leigh Cemetery, 15 Mount Leigh Road, Scott Township, Seaman, Ohio 45679.  Dale Rothwell will officiate.

Friends can sign online condolences at www.LaffertyFuneralHome.com

Lafferty Funeral Home Incorporated serves the family.
Condolences
Michael J McNeilan - Aug 29, 2023
I truly wish life would have been different and we could have remained the close family we were when I was young. I'll still miss you all the same!! At least you are back home with grandma!! I love you grandpa!!
Brandi - Aug 29, 2023
He's finally going home to be with grandma🥹. I'm gonna do my best to make it but even if I don't I'll see em' again.