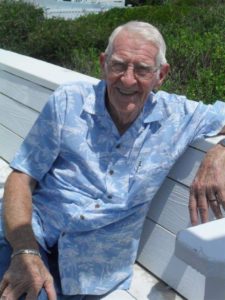 Hubert Knauff
November 18, 1920 - October 4, 2017
Hubert Knauff, 96, of Peebles, Ohio, passed away Wednesday October 4, 2017 at the Hospice of Hope Ohio Valley Inpatient Center in Seaman, Ohio. He was born November 18, 1920 in Blue Creek, Ohio. He was preceded in death by his parents, Roy and Goldie (Johnson) Knauff; wife, Lena (Mantua) Knauff, and brother, Walter "Shorty" Knauff.
Hubert was very much loved by five nieces: Michele Wilson of Dandridge, Tennessee, Kathy Knauff of Peebles, Kris Brown of Peebles, Tricia Fraley of Peebles, and Julie Mislansky of West Chester; special family friend, Angie Raynard; sister-in-law and best friend, Marilyn Knauff of Peebles; 5 great nieces and 7 great nephews; 4 great-great nieces and nephews. The family was blessed that "Uncle Hubert" returned to Adams County 15 years ago.
Hubert was a school teacher and taught for 33 years in Santa Rosa,California. He was a WW II Veteran and Ensign in the U.S. Navy and attended West Union Presbyterian Church.
A Celebration of Hubert's Life will be held at 12:30 pm on Saturday, November 18, 2017 at the West Union Presbyterian Church, 104 S. Second Street, West Union, Ohio. The family asks that you honor Hubert by practicing random acts of kindness in his memory.

Condolences
Sharon Cooper - Aug 11, 2022
Sincere condolences to the Family I'm not positive I have the right Mr Knauff. Did Mr Knauff teach at Mark West Union Elementary in Fulton CA? If so he was my teacher for a year or so 1952/1953. I believe he was also the principal. He did indeed have red hair. Great teacher. I remember him and Mrs Lee from Mark West Union. Again, my sincerest condolences. Sharon Cooper
Amy mccoy - Jun 7, 2021
I still live in the house "Red" sold to me in Santa Rosa. Hardly a day goes by that I don't think of him, truly a kind man who will be forever missed.