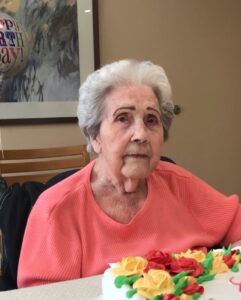 Helen F. Ellison
September 19, 1917 - January 1, 2021
Helen F. Ellison was a resident of Forest Hills Care Center in Cincinnati.  She passed away January 1, 2021 at the age of 103.

She was the wife of the late James Ellison of West Union. She was also preceded in death by her parents, Frank and Bertha Foster and eight siblings: Lucille Wikoff, Arthur Foster, Majole Foster, Ralph Foster, Ted Foster, Kendall Foster, Leland Foster and June Branson.

Helen is survived by two daughters: Carol (Ed) Hanks of Cary, North Carolina and Marlene (Doug) Evans of Cincinnati; four grandchildren: EJ Hanks of Fuquay-Varina, North Carolina, Leighann (Rob) McGarrigle of Parlin, New Jersey, Jon Evans of Cincinnati and Jay Evans of Cincinnati; two great grandsons: Andrew and Austin Hanks of North Carolina and several nieces and nephews.

She was born on Island Creek in Manchester on September 19, 1917.  She graduated from Manchester High School at age 17 and attended the former Holbrook College.  She worked as an operator at the former General Telephone Company.  She met and married James Ellison in 1938.

She was an active member of the West Union United Methodist Church and the church's women's society until age 93 when she moved to Eastgate Village in Cincinnati to be closer to her daughter, Marlene.  After three years, she moved to Forest Hills Care Center to live out the rest of her life.

In lieu of flowers, memorial donations can be made to:                                                           West Union United Methodist Church                                                                                                P.O. Box 518, West Union, Ohio 45693.

A private graveside funeral will be held at the convenience of the family. Reverend Al Bolte will officiate.
Condolences
Harold and Becky Cropper - Jan 9, 2021
Sorry for your loss. She was a very nice lady. I enjoyed farming Jim and Helen's farm here in brown county.
Becky fields foster - Jan 8, 2021
I loved Helen she worked at Tiffin Elementary when I was a kid.So sorry for your loss
Vicki Rhonemus - Jan 4, 2021
My memory of Helen is that she talked me into taking over the treasury office for the United Methodist Women's group. She had done it for several years and neglected to tell me that I would do it until I talked someone into taking it over! She was a marvelous woman to know. Sarah Lou Teets called me today and wanted me to send her condolences and prayers. She was friends with Helen for many years.
ann west - Jan 4, 2021
So sorry to read about Helen..Always had such a good time with Helen, Treva Lee, Dorothy, Teenie, my mother, Jeanne Berry, Karen, and me!! Hugs to you Marlene..
Harriet DeMint - Jan 3, 2021
Always enjoyed conversing with Helen when we attended the Methodist church. She was such a nice lady.
George Thompson - Jan 3, 2021
Helen was a good friend to my mom. You and Carol were blessed to have her in your lives for so long!
John T and Elaine Lafferty - Jan 3, 2021
We are so sorry to learn of Helen's passing. She was such a lovely lady and a wonderful friend to Gracie. Our sympathy goes to all of her family.