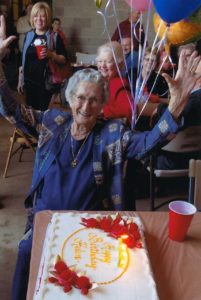 Helen (Cox) Easter
November 25, 1917 - October 30, 2018
Helen (Cox) Easter, 100, of Stout, Ohio passed away Tuesday, October 30, 2018 at home. She was born in Green Township in Adams County on November 25, 1917. She was preceded in death by her parents, Wheeler and Mary (Knepp) Cox; husband, Johnny Easter; daughter, Mary Anna Detro; son, Joe Easter, and son-in-law, Robert Detro.

Helen is survived by her daughter-in-law, Carolyn Easter of Stout; three grandchildren: Phyllis Wood and Brenda Huber of Maysville, and John Easter of Stout; six great grandchildren; two step great grandchildren; two great great grandchildren; several nieces and nephews, and three adopted daughters: Wilma Simmers, Linda Nelson and Linda Basquin.

Helen attended the West Fork Christian Church and the East Fork Christian Church.

In lieu of flowers, memorial donations may be made to Green Township Trustees, c/o Joyce Rideout, 21092 US 52, Stout, Ohio 45684 to be used for the upkeep of Cox's Cemetery.

Visitation is from 6 until 8 pm Thursday, November 1, 2018 at Lafferty Funeral Home in West Union. The funeral service is 11 am Friday, November 2, 2018 with Pastor Tom Brown officiating. Burial will be at Manchester Cemetery in Manchester, Ohio.
Condolences
Phillip and Vicki Rhonemus - Nov 21, 2018
Dear Easter Families, Keeping each of you in our thoughts and prayers at this time. Each of you made Helen proud of you; she will be missed. Sincerely,
Rita Lucas - Nov 1, 2018
Helen was a special person. You are all in our thoughts.
Pallavi Bapat - Nov 1, 2018
Please accept our heartfelt sympathies on the loss.
Carolyn Spires Sammons - Nov 1, 2018
I am so very sorry for your loss. There is no doubt in my mind she is heaven enjoying all of her rewards! Helen was truly a wonderful woman!