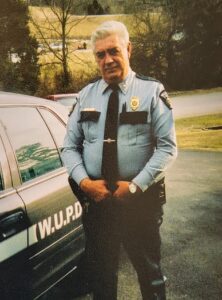 Harry Wayne Baldwin
March 31, 1942 - March 29, 2023
"Blessed are the peacemakers, for they will be called children of God." Matthew 5:9

Harry Wayne Baldwin, 80, of West Union Ohio passed away on Wednesday, March 29, 2023 at The Christ Hospital in Cincinnati. He was born March 31, 1942 in Leesburg; to the late Carl and Lesta (Grooms) Baldwin.  In addition to his parents he is preceded in death by one granddaughter, Ashlee Rae Fitzgerald; three brothers: Harold, Junior and Willard Baldwin and one sister, Janice Hayslip.

Wayne is survived by his wife of 56 years, Lola (Rothwell) Baldwin of West Union; two daughters: Mary Ann (Ray) Fitzgerald and Tamra Palmer, both of West Union; one son, Jason (Malisa) Baldwin of Seaman; one sister, Shirley Ackerman of Greenfield; six grandchildren: Ray (Shayla) Fitzgerald II of West Union, Jordyn (Matt) Mullins of Mt. Orab, Jadelyn (Austin) Baldwin of West Union, Jason Baldwin II of West Union, Blake Baldwin and Amanda Baldwin both of Lexington, Kentucky; five great-grandchildren: Ashlyn Fitzgerald, Adalyn Fitzgerald, Zaden Gilkison, Xander Gilkison and Waylon Fitzgerald; life long friend, Colin Sutphin along with a host of nieces, nephews and many friends.

Wayne served in the United States Airforce proudly for two years. Specializing in Strategic Air Command. At a very young age Wayne knew he wanted to be a police officer. Wayne served various villages in Adams County proudly as a police officer for 37 years. Wayne held many rankings during his tenure; retiring as Chief of West Union Police Department July 4, 2004. After retirement Wayne enjoyed working in his garage fixing vehicles. Watching the Ohio State Buckeyes football team and the Cincinnati Reds. Wayne had many titles along his life and represented them with pride and confidence.

The public visitation is 2 – 5 PM Sunday, April 2, 2023 at Lafferty Funeral Home Incorporated, 205 South Cherry Street, West Union, Ohio 45693.

The public visitation is 12 – 1 PM Monday, April 3, 2023 at Lafferty Funeral Home Incorporated.

The public funeral is 1 PM Monday, April 3, 2023, 2023 at Lafferty Funeral Home Incorporated. Sister-in-law, Pastor Karen Boldman will officiate.

The Adams County Honor Guard will perform a military service.

The public interment is at West Union Cemetery, 9522 State Route 125, West Union, Ohio 45693.

Friends can sign online condolences at www.LaffertyFuneralHome.com

Lafferty Funeral Home Incorporated serves the family.
Condolences
Tim Caudill - May 14, 2023
THANK YOU BROTHER FOR GREAT WORKS FOR ALL SO SORRY TO YOUR FAMILY AND FRIENDS .
John Whaley - Apr 1, 2023
Sorry for your loss Wanda and family. I always enjoyed talking to Wayne. Thanks for his services. God Bless all his friends and family. He will be missed
Kim Selbo - Apr 1, 2023
Dear Wanda and family, I want you all to know how sorry I am for your loss, Uncle Wayne was a great man. He always treated me like family even when I wasn't any longer. I'll be keeping you all in my thoughts and prayers. I love you Uncle Wayne. My love to you all.
Matt rigdon - Mar 31, 2023
Great man grew up around him will be missed very much
Ronnie Harmon - Mar 31, 2023
Thoughts and prayers for all the family and friends of Wayne. I have many great memories.
Tammy Groves ( Bobby Lee Groves Widow) - Mar 31, 2023
Bob and I would stop in West Union and talk to Wayne. He was always very nice. He made us laugh. Deepest condolences. Tammy
Scott Hayslip - Mar 31, 2023
Wayne, what can I say except I love you, you were a good uncle, a good friend, and i am proud to have you in my family. Say hello to the family for me,
Stephen - Mar 31, 2023
Uncle Wayne, I remember just enough of you from when I was small to know that you were a great man. I met you again when I was older and wiser, and now I know that you were indeed a greater man than I realized. You helped many in the family during the toughest of times, and still kept up on your hobbies and pursuits. I'll miss you greatly, and I do hope you can forgive me for not coming to see you sooner. I love you., and I hope to see you soon
Alfred and Kathy - Mar 31, 2023
There are no words. Although I didn't get to see him often, I will miss him being in this earthly domain. Uncle Wayne, i promise to bring you some chocolate walnut fudge when I see you again. I'm so sorry Aunt Wanda.
Kim Achor - Mar 30, 2023
My heart is breaking for you all. I am sad beyond words. Your dad was probably the best police officer I've had the chance to meet. He was always telling jokes and making me laugh. We talked cars in his shop. I am forever grateful the most for not just knowing him, but for him always being a great Papaw Wayne to my daughters, I can never thank him enough. Even though he wouldn't let me come in his house without first giving up the jellybellys!!! Those 2 pound bags came in handy when visiting your mom and him. What an honor to have known your dad, I know he loved you all so much. Thank you for sharing him with the rest of us who weren't his immediate family. He will surely be missed. Much love to you all.
Mark Hamilton - Mar 30, 2023
Wayne was a great guy. I enjoyed working with him. My sincerest condolences to Wanda and family.
Diane Groom's - Mar 30, 2023
So sorry for your loss my condolences go out to the family of Wayne unto his wife Wanda and his children his grandchildren and great-grandchildren he will be missed by many I've known him for years Wayne was a good guy and friend prayers for all the family members
Fannins - Mar 30, 2023
We are never ready or prepared. No matter how hard we try. Losing a dad is one of the worst things I can imagine. No one can replace a dad. You must know how much good he did and how many people loved your dad Mary. I hope this knowledge helps ease the pain & grief. And know my dad is waiting with open arms. Big hugs & prayers for you & family
Diane Groom's - Mar 30, 2023
So sorry for your loss my condolences go out to the family of Wayne unto his wife Wanda and his children his grandchildren and great-grandchildren he will be missed by many I've known him for years Wayne was a good guy and friend prayers for all the family members