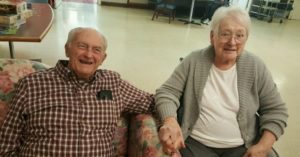 Harry Smith
December 3, 1929 - February 18, 2019
Harry Smith, 89, of Manchester, Ohio passed away on Monday, February 18, 2019 at the Locust Ridge Nursing Home in Williamsburg, Ohio. He was born December 3, 1929 in Manchester. He was preceded in death by his parents, Harry and Lillian (Young) Smith; sister, Wyvetta Shanover;  half-sister, Sharon Kuhn, and granddaughter, Samantha.

Harry is survived by his wife, Ruby (Shultz) Smith of Williamsburg; children: Timothy (Yolanda) Smith of Manchester, Kathy (Mark) Amon of Seaman, Cheryl (Mike) Smitson of Manchester and Melinda (Bill) Jones of Georgetown; brother, Delmar Smith of Florida; half-brother, Mike Smith of Manchester; 11 grandchildren; 26 great grandchildren, several great- great grandchildren and many nieces and nephews.

Harry retired after 20 years of employment as a salesman.  He attended the Manchester Nazarene Church and the Hickory Ridge Church as long as his health permitted. He was a veteran of the US Navy and served during the Korean Conflict.

The visitation is from 11 am until 12 pm on Friday, February 22, 2019. Funeral will follow at 12 pm. at Lafferty Funeral Home in West Union with Chaplain Bonnie Bohn officiating. Burial will be at Hickory Ridge Cemetery in Huntington Township in Brown County.
Condolences
Cathy Perry - Feb 26, 2019
I'm so sorry Cheryl and family for the loss of your father. Prayers going out to you.
Bonnie (Shultz) Hooks - Feb 22, 2019
I am so sorry for your lose. Losing a parent and husband is a great trial. Hugs to all of you.
William McHenry - Feb 21, 2019
Cheryl, we were so sorry to learn of your dad's passing. Our deepest condolences to you and your family.
Ellestad Family - Feb 20, 2019
Sending hug and prayers to all of your family. He is going to be missed. I have so many funny memories of him.
Courtney - Feb 20, 2019
Harry was one kind man he will be greatly missed. Sending hugs and prayers to all family.
Vivian Shultz Ziel - Feb 20, 2019
I am so sorry for your loss 😢 Losing a parent is so hard!
Lois Stike - Feb 20, 2019
Sending my sincerest condolences to all of the family.