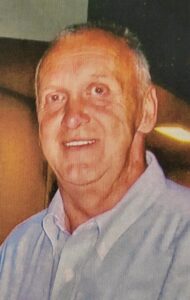 Harry "Hank" Brinker
December 29, 1944 - March 11, 2022
Harry L. "Hank" Brinker, 77, of West Union, Ohio passed away on March 11, 2022 at Adams County Regional Medical Center in Seaman. He was born December 29, 1944 in Cincinnati, Ohio to the late Harry J. and Lucille [Gerold] Brinker. He is preceded by one son, Steven Brinker and one sister, Anna Marie Asher.

Hank is survived by his wife, Pat Brinker of West Union; one daughter, Cheryl Brinker of Buffalo, New York; two sons: Scott Brinker of Frankfort, Kentucky and Jason (Angela) Brinker of West Union; eight grandchildren: Matt and Ben Haid, Brooklyn, Kaia and Michaela Brinker, Carson, Baylee and Ian Brinker; very special cousin, Jackie Kohls and many nieces, nephews, cousins and friends.

Hank loved yard work and to share his flowers with anyone who wanted them.  He retired from the Manchester School District where he was a custodian.   He was a member of Holy Trinity Catholic Church and attending until his health prevented it.

Hank will be cremated.  There will be no visitation and Mass of Christian Burial will be held at Holy Trinity at 11 am on Saturday, March 19, 2022.  Father Craig Best will be officiating.

Lafferty Funeral Home Incorporated serves the family.
Condolences
Phil and Vicki Rhonemus - Mar 22, 2022
Dear Brinker Families, Keeping all of you in our thoughts and prayers at this time. Always appreciated Hank's work at the schools, his friendliness, and much good conversation. Sincerely,
Claire - Mar 18, 2022
My deepest condolences to my best friend, Scott, and his family. Please accept my heartfelt sympathy for your loss.
Fr. Chet Artysiewicz - Mar 16, 2022
Sending my condolences and prayers to the Brinker family at this time. That's a wonderful picture of Hank; I know God has many more smiles in store for him.
Christy Clark - Mar 15, 2022
I have fond memories of Hank and the entire Brinker family. May he Rest In Peace. Prayers to the family.
Michelle Shoemaker Posey - Mar 15, 2022
My heart is so broken. Your family was such a big part if my life. My thoughts and prayers are with the entire family. May God wrap you in his arms and bring you comfort he is in Heaven and rejoicing now. You all have another guardian angel. Love to you all.