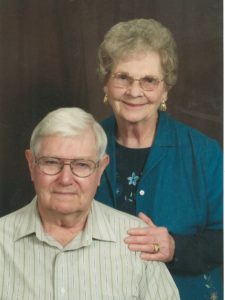 Harold E. Allen
June 9, 1920 - February 11, 2018
Harold E. Allen, 97, of Lynx, Ohio passed away on Sunday, February 11, 2018 at his home. He was born June 9, 1920 in Manchester, Ohio. He was preceded in death by his parents, Earl and Dove (Bradford) Allen; wife, Frances (Grooms) Allen; three sisters: Dorothy Scott, Evelyn Potter, and Mary Ellen Spriggs, and two brothers, Floyd and Malcolm Allen.

Harold is survived by two sisters: Loveda Grooms of Springboro, Ohio and Geneva Palmer of Morrow, Ohio, and several nieces and nephews. Harold retired in 1977 after 30 years with Delco Products Division of GM. He was a Veteran of the Army Air Force serving in WWII.  He was a member of the American Legion Walter Harris Post 100 in West Union. He was a member of the International Electrical Union, and the West Union Senior Citizens Club.

The visitation is from 11 am until 1 pm on Thursday, February 15, 2018 at Lafferty Funeral Home in West Union. The funeral service will follow at 1 pm. Pastor Volley Reed will officiate.  Burial will be at East Liberty Cemetery in Lynx.