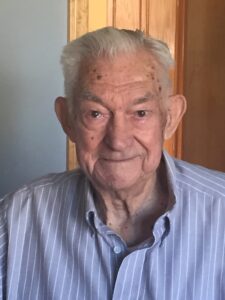 Grover L. Swearingen
April 17, 1924 - October 20, 2021
Grover L. Swearingen 97, of West Union, Ohio died Wednesday, October 21, 2021 at The Ohio Veterans Home in Georgetown. He was born April 17, 1924 in West Union.  He is preceded by first wife, Martha Swearingen; parents: Grover, Sr., and Molly Swearingen; one sister, Lois Cavanaugh and four brothers: Wendell Swearingen, Verlin Swearingen, Bliss Swearingen and Carl Swearingen.

Grover is survived by wife Marcella Swearingen; one son, Roger (Jill) Swearingen of Batavia, one daughter, Sandra (Stephen) Douglas of Peebles; one stepson, Danny (Christel Poe) Russell of Maysville, Kentucky; two step daughters: Dottie Anne McElroy of West Union and Susan (Dannis) Haslim of Winchester; four grandchildren: Bradley (Karen) Swearingen of Fort Myers, Florida, Beverly (Matt) Stump of Batavia, Misty (Josh) Arey of Peebles and Sabrina (James) Davis of Peebles; eight great grandchildren and four great-great grandchildren.

Grover served in the Army Air Force during WWII.  His plane was shot down over Dusseldorf, Germany, where he was a Prisoner of War for 9 months.  He later received a Purple Heart Medal for his service.  He was a member of the Rome Masonic Lodge for over 60 years.  He was also a member of Stonewall Grange and the Campfire Caravan.  He will be dearly missed.



The public visitation is 5 – 7 PM Sunday, October 24, 2021 and public Masonic service is at 7 PM at Lafferty Funeral Home Incorporated, 205 South Cherry Street, West Union, Ohio 45693.

The public visitation is 12 – 1 PM Monday, October 25, 2021 at Lafferty Funeral Home Incorporated.

The public funeral is 1 PM Monday, October 25, 2021 at Lafferty Funeral Home Incorporated. Pastor Vernon Green will officiate.

The public interment is at West Union Cemetery, 9522 State Route 125, West Union, Ohio 45693. The Adams County Honor Guard will perform a military graveside service.

Lafferty Funeral Home Incorporated is serving the family.
Condolences
Marjorie Swearingen - Oct 26, 2021
Dear family, You have my sympathy in the loss of your loved one. You are iin my thoughts and prayers.
Dottie McElroy - Oct 24, 2021
Dad I will miss you so much. Not a day will go by that I won't think of you. You were such a good person. You never failed to thank me for every little thing I did for you. I will miss our trips to the barber shop, doctors office and our rides we took. You were one tough man who endured so much. I know how much you loved my Mother and found happiness the last 20 some years of your life. Now go rest high on that mountain where there is no pain or suffering. I love you Dad as always.
Sara Kirk Lewis - Oct 23, 2021
I am so sorry to hear of Grovers passing, he was great friend to my parents Margie and Willie Kirk. I remember camping all thru my preteen and teen years with Grover and Martha with Campfire Caravan. They were great people.