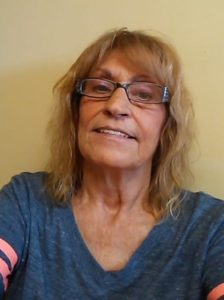 Grace (Boldman) Parks-Ewing
March 13, 1949 - September 17, 2019
Grace (Boldman) Parks-Ewing, 70, of Blue Creek, Ohio passed away on Tuesday, September 17, 2019 at Christ Hospital in Cincinnati, Ohio. She was born March 13, 1949 to the late Doad and Hazel (Taylor) Boldman. Besides her parents, she was preceded in death by her first husband David, whom she married April 17, 1967.

Grace is survived by her husband and companion of 30 years, David Ewing of Blue Creek; children, David Parks of Marion, Ohio and Detra (Gary) Watson of Bellefontaine, Ohio; stepson, Michael Ewing of Mt. Gilead, Ohio; sisters, Axie Boldman and Darlene (Bill) Myers of Blue Creek; brothers, Robert (Patty) Boldman and Doug Boldman of Blue Creek; grandchildren, Taylor (Scott) Schaefer, Craig Parks and Kage Watson, and several aunts, uncles, nieces and nephews.

Grace retired after 20 years of employment from Sunray Stove Company in Delaware, Ohio. She attended church regularly as long as her health permitted. Grace loved her family, who meant the world to her.

In lieu of flowers, memorial donations may be made to the American Lung Association of Ohio, Southwest Region, 4050 Executive Park Drive, Suite 402, Cincinnati, Ohio 45241.

At Grace's request, there will be a Graveside Funeral Service at 11 am on Tuesday, September 24, 2019 at Moores Chapel Cemetery in Blue Creek. Pastor Vince Wright will officiate.
Condolences
Carole Maynard Tipton - Sep 19, 2019
I will sure miss all of the sweet messages sent me. She always commented on most of my post. We talked mostly and shared pics of our kids. We also talked always about music and all the friends we both knew. She bragged on Davids music all the time and I agreed one of the best pickers I ever heard. Our last conversations she wanted me to take better care of myself as I to have been hospitalized for lung issues. I told her the same...Was such a sweet compasitonate woman to everyone. Make God comfort her children who loved her so. Until we meet again my sweet friend....
Wanda Baldwin - Sep 19, 2019
I'm so sorry for your loss, & I know Grace will be missed by all who knew and loved her!