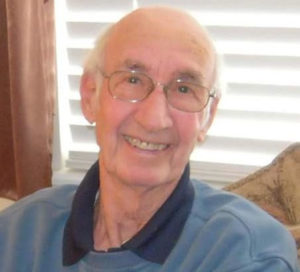 George Riley Beckner
October 6, 1931 - December 3, 2019
George Riley Beckner, age 88, of West Union, Ohio died Tuesday, December 3, 2019 at Anderson Mercy Hospital in Cincinnati.  He was born October 6, 1931 in Pulaski, Virginia.  He was preceded in death by his parents, Jabez Martin Beckner and Sadie Lee (Vipperman) Beckner and his wife, Marianne Beckner.

George is survived by two daughters:  Teresa Teschler of Columbus and Sandra Smith of Valrico, Florida; one brother, Paul Beckner of Mississippi; one sister, Betty Goad of Virginia; and one grandson, Anthony Smith and his wife, Dezare, of Troy.

George retired with Dayton, Power and Light Company in Adams County and was employed for 33 years.  He was a former co-owner of Hilltop Golf Course in Manchester Township.  He was a member of the West Union Lions Club for 40 years plus.  He was a U.S. Army Veteran of the Korean Conflict.

Memorial donations may be made to the Humane Society of Adams County, P.O. Box 245, West Union, Ohio 45693.

The visitation is Saturday, December 7, 2019 from 12 until 2 PM at Lafferty Funeral Home in West Union.  The funeral service is at 2 PM.

Lafferty Funeral Home in West Union, Ohio is serving the family.
Condolences
Rick and Belinda Sininger - Dec 8, 2019
Hoping your treasured memories bring comfort to you in the days ahead. We were co-workers at DP&L many years ago.
Harold & Karen Mitchell - Dec 6, 2019
Dear Theresa and Sandra, Karen and I are so sad to hear of the passing of your dad. Please accept our deepest and heartfelt condolences for your loss. Regrettably Karen and I will not be able to join you in Ohio tomorrow for his memorial but as per his request we are providing a donation to the local humane society in his honor Uncle George has always been a great role model for me. His pleasant demeanor and easygoing attitude made him a real pleasure to be with. His distinguished service in the Korean conflict as well as his dedication to the Lions Club were two things that made him standout as a perfect role model. It was such a pleasure to see him and talk to him at the reunion this past summer. He will be sorely missed at our gatherings in the future. Respectfully Harold & Karen Mitchell
Jack & Dee Tamplin - Dec 6, 2019
George has been an integral part of our family as much as any of our biological brothers and sisters. I know of no one who has a more kind and loving spirit than George. Never asks anything of you. Always ready to share in kind and uplifting conversations. George's departure to heaven leaves a large hole in our hearts yet hearts that are better off for knowing him. We ask God for His comfort of George's daughters, grandson, and extended family members!
Bob and Debbie Giles - Dec 6, 2019
Theresa and Sandra, so sad to hear of Uncle George's passing. He was always my favorite uncle. We had a lot of fun when he would come to visit when I was young. I am thankful we got to see him at the reunion this past August. He will be missed so much. If there is anything we can do, please do not hesitate to contact us.