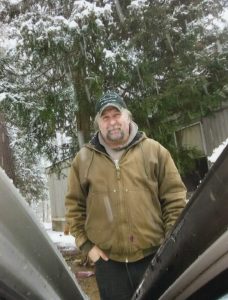 George Henry Abbott
June 23, 1964 - November 2, 2019
George Henry Abbott, 55, of Peebles, Ohio passed away on Saturday, November 2, 2019 at home. He was born in West Union, Ohio to the late Andrew and Josephine (Taylor) Abbott. Besides his parents, he is preceded in death by his son Issac, brothers Troy and Elijah Abbott, and sister Iva Tolle.

George is survived by his wife, Genia (Sumpter) Abbott; children, William, Kristina, Iva, Annie, Genia Mae, Nevaeh, Jocelyn, Sadie Jane, Dakota, Desiree, Brett Matthew; 12 grandchildren; sisters, Sharon (Ron) Denning, Rosalie Malone and Judy Evans; brother, Bobby Abbott; aunt, Hellen Abbott, and many nieces, nephews, cousins and friends.

The visitation is from 11 am until 1 pm on Wednesday, November 6, 2019 at Lafferty Funeral Home in West Union. The funeral will follow at 1 pm with Pastor Chet Whaley officiating. Burial will be at Mt. Armenia Cemetery in Lynx, Ohio.
Condolences
Malone family - Nov 24, 2019
Im going to miss u so much uncle george. Ur smile an u telling me to be good. Rip uncle george. Fly high my friend ill see you again ..... I love you more then words can ever say.
Phyllis lay (moon) - Nov 22, 2019
Miss u so much uncle George never thought this would happen my thoughts and prayers r with ur family RIP say hi to mom dad and my brothers hope to see u soon
Malone Family - Nov 10, 2019
RIP uncle George we love you so much. We are going to miss your smile an ur voice telling us to be god. With a smile. We will see you again my friend
Rachel Rodano - Nov 8, 2019
I am sorry to hear of George passing he will be very much missed by myself and my family. He was not only a true friend but a part of our family for which we are blessed. To Genia his children and family I send my love and prayers and know if you need anything please let me know. God Bless and Fly High my friend RIP till we meet again much love
Larry & Debbie Rothwell - Nov 7, 2019
Praying for the family sorry for your loss
Rhonda Henderson - Nov 6, 2019
Sorry to hear george died he was a good guy.
Mary jean - Nov 6, 2019
I am so sorry for George family I also hated to hear of his passing George was a guite person never failed to stop and talk to me a friend a cousin ..rest in peace
Jeff Yates and Trena caudill - Nov 6, 2019
SO SORRY FOR YOUR LOSS ,GO REST HIGH ON YOUR MOUNTAIN YOU WILL GREATLEY MISSED .MANY PRAYERS FOR OUR FAMILY
Teresa franklin - Nov 6, 2019
So sorry to hear this always liked going to his house , he always was a lot of fun ...
Rebecca A (curry,)Hodge - Nov 6, 2019
So sorry for your loss, word can't express my sorrow for your family
Darlene Mahon - Nov 6, 2019
I absolutely hate hearing this, George was a good friend of my dads & was always good to me!! May he RIP🙏🙏🙏 My condolences to Genia & all his kids,family & friends who considered him family-my thoughts & prayers are with you all!! I will forever be grateful to George & will always treasure my little trinkets he gave me years ago! Until we meet again Fly High & Free Old Man🙏🙏🙏
Morgan Butler (David Abbott's oldest daughter) - Nov 6, 2019
So very sorry for your loss, George was awesome, he will be missed!!😪
Morgan Butler (David Abbott's oldest daughter) - Nov 6, 2019
So very sorry for your loss, George was awesome, he will be missed!!😪