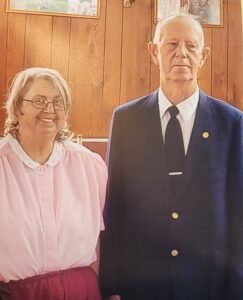 Gary W. Howell
May 20, 1947 - August 19, 2023
Gary W. Howell, 76, of West Union, Ohio passed away on Saturday, August 19, 2023 at Hospice of Home at Adams County Regional Medical Center in Seaman. He was born May 20, 1947 in West Union.  He is preceded in death by parents: Charles Ray and Geneva Carlyn (Sheeley) Howell, one great grandson, Baby James; father-in-law, Elmer Gray; mother-in-law, Golda Gray; one brother-in-law, Rupert Gray; and one daughter-in-law: Jean Howell.

Gary is survived by his loving wife, Barb (Gray) Howell of West Union; five sons: David (Jewel Miller) Howell of Peebles, Michael (Michelle) Howell of West Union, Kevin (Jen Young) Howell of West Union, Ricky (Christina) Howell of West Union, and Paul (Jenny) Edmisten of Peebles; one sister: Cathy (Tom) Thomas of West Union: two sisters-in-law: Linda and Gracie Gray: five nephews and nieces: Kelly, Eric and Tommy Thomas; Alicia Shiveley and Gina Gray; 19 grandchildren: D.J., Keri, Cheyanne, Callie, Carlyn, Caleb, Clair, Jordan Tabby, Ashley, Charlie, Chelsie Cameron (Hammerhead), Elizabeth, Lindsey, Chasity, Dakota, Dusty and Emma; 23 great grandchildren; and special friend, Daniel Foster.

Gary loved his family his farm.  He enjoyed working on his farm, picking corn, and hunting.  He served the Lord well, becoming a minister August 5, 1996.  He became a member of the Stonewall Grange at the age of 13 and was a proud member for over 60 years.

The public visitation is 11– 12 PM Thursday, August 24, 2023 at Lafferty Funeral Home Incorporated, 205 South Cherry Street, West Union, Ohio 45693.

The public graveside funeral and interment is 1 PM Thursday, August 24, 2023 at Vaughn Chapel Cemetery, 4995 Vaughn Ridge Road, West Union, Ohio 45693. Pastor Pete Francis will officiate.

Friends can sign online condolences at www.LaffertyFuneralHome.com

Lafferty Funeral Home Incorporated serves the family.
Condolences
Chris & Wilma Koenig - Aug 23, 2023
Barb, Cathy and family. We are so sorry for your loss. It's never easy to lose someone you love. Our prayers are that God will give you comfort and peace during this time.
Elaine and John T Lafferty - Aug 22, 2023
We send sincere sympathy to all of Gary's family. He will truly be missed by so many family and friends.
Barb Conschafsky - Aug 22, 2023
Barb and Cathy so sorry for your loss. 🙏 prayers for you guys and the family🙏
David and Cara Vogler Family - Aug 22, 2023
Our thoughts and prayers are with you during this time of loss.
Sheila & Bub Brown - Aug 22, 2023
Sorry for your loss.
Bob and Vickie O'Brien - Aug 21, 2023
So sorry for your loss. You are in our thoughts and prayers.
Shirley Hatten - Aug 21, 2023
So sorry for your family's loss....love you guys
Phil and Vicki Rhonemus - Aug 21, 2023
Dear Barb, Cathy, and All Howell Families, Keeping all of you in our thoughts and prayers at this time. I have known Gary since high school days , in Grange as well. Vicki met Gary when we moved back to Adams County. He was a good neighbor and we shared labor and conversations over the years. Gary will be missed. Sincerely,