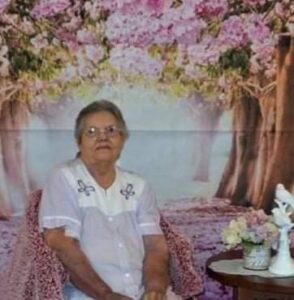 Frances Jean Williams
January 12, 1939 - June 20, 2021
Frances Jean (Ward) Williams, 82, of Cedar Mills in Blue Creek, Ohio, died Sunday, June 20, 2021 at Monarch Meadows Nursing Center in Seaman.   She was born January 12, 1939 in Moline, Illinois. She is preceded by husband, Robert Reese Williams; parents: Ivan Hoe and Myrtle Mae (Donley) Ward; one sister, Lucille Wright, one brother, Doug Ward and two brothers-in-law: Roy Riddle and Melvin Harris.
She is survived by children; one daughter, Jennifer (Tim) Slusher of West Union; three sons: Robert Keith (Linda) Williams of Cedar Mills; Timothy (Connie) Williams of Cedar Mills and Jeffrey Williams of Peebles; ten grandchildren: Melinda (Brian) Mingua, Hollie (Wes) Mullins, Emily (Bryan) Randolph, Robert (Stephanie) Williams, Jr., Dee Ann (Mark) Evans, Timothy (Rebecca) Williams, Jr., Kelly Williams, Bradley (Crystal) Williams, Vanessa (Cole Swayne) Williams and Keshia Jean (Chris) Fite; 20 great-grandchildren; four brothers: Melvin (Anita) Ward, Ivan Wayne Ward, Shannon (Frances) Ward and Roger (Betty) Ward; four sisters: Barb Harris, Bonnie Bradford, Brenda Riddle and Debbie (Gary) McKenzie; several nieces and nephews and many friends.
Frances was a devoted Christian for over 45 years.  She attended Hamilton Church and Cedar Mills Church for many years.  She enjoyed gardening and canning.  She loved and adored her family.
The
public
visitation is 11 – 1 PM Friday, June 25, 2021 Lafferty Funeral Home Incorporated, 205 South Cherry Street, West Union, Ohio 45693.
The
public
funeral is 2 PM Friday, June 25, 2021 at East Liberty Church, Tulip Road, Lynx, Ohio. Pastor Tim Daniel and Pastor Charlie Caplinger will officiate.
The
public
interment is at East Liberty Cemetery.
Lafferty Funeral Home Incorporated is serving the family.
Condolences
Phil and Vicki Rhonemus - Jul 7, 2021
Dear Williams Families, Keeping each of you in our thoughts and prayers at this time. Sincerely,
Deborah Reed Snyder - Jun 26, 2021
I'm so sorry for your loss. May God's peace be with the family during this time. Love and prayers. Deb
Susan Shupert - Jun 24, 2021
So sorry about the passing of your mother, Frances. She was a sweet lady. I got to know her the past 2 years as I helped transport her to the Dialysis clinic for Senior Citizens. Prayers for your family!🙏🙏
Jackie and Raymond McRae - Jun 23, 2021
Thoughts and prayers for you and your family. We are so sorry for your loss. God Bless
julie Burris - Jun 23, 2021
Sorry for your families loss
Judy Hinton - Jun 23, 2021
I am so sorry for your loss. May your precious memories bring you peace and comfort.
Iva Byers - Jun 23, 2021
Jeff and family, we are sorry for the loss of your mother. She was a very sweet lady we got to know thru the dialysis clinic. She will be greatly missed. Just wanted to let you know you are in our thoughts and prayers. Mark and Iva Byers
Linda Richard - Jun 23, 2021
So sorry for your loss. Prayers for peace and comfort for the family.
Carol & Tim Daniel, Sr - Jun 22, 2021
We extend our deepest sympathy to all the family. Prayers for comfort, strength and peace during this time and time to come.
Chester whaley - Jun 22, 2021
She was a berry good person I used to tranceport her for the senior citizens I have been in church with her she will be missed by all who knew her