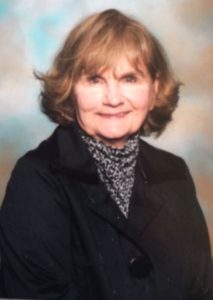 Fern Dee Wilson
April 4, 1934 - July 20, 2019
Fern Dee Wilson, 85 of West Union, Ohio passed away on Saturday, July 20, 2019 at the Hospice of Hope Ohio Valley Inpatient Unit in Seaman, Ohio. She was born in Cherry Fork, Ohio on April 4, 1934 to the late Charles M. Cooper and Prudie Mae (Coffey) Cooper. Besides her parents, she was preceded in death by her brother, Pat Cooper and sister, Jennifer Franzen.

Fern is survived by her children: Teresa and Mike Torrez of Florida, Mary J. and Steve Roeder of Columbus, Ohio, David Wilson and Charles (Trae) Wilson of West Union; 7 grandchildren: Wesley and Michael Torez, Jessica Murdock, Rusty Roeder, Charles (Chad), Clayton and Aden Wilson; 4 great grandchildren; 1 great, great grandchild; brothers; Tom, Phil, Charles (Chuck) and Timothy Cooper; sister, Kathy Forsee; aunt, Dorothy Wiggins, and many nieces, nephews, cousins and friends.

Fern was a strong amazing mother, friend, mentor and legend in our community.  She touched many lives in her 85 years.  She taught full time at the Adams County/Ohio Valley Schools until she was 82. She received her Master's Degree at the age of 64 and ran Dogwood Farms Bed & Breakfast for many years.  Fern attended the West Union Presbyterian Church.

Memorial donations may be made to the West Union Presbyterian Church, 110 S. Second Street, West Union, Ohio 45693 or the Hospice of Hope Ohio Valley, 215 Hughes Boulevard, Mt. Orab, Ohio 45154.

According to her wishes, Fern will be cremated. The memorial service is at 2 pm on Sunday, July 28, 2019 at the West Union Presbyterian Church in West Union. Reverend David Sugarbaker will officiate.
Condolences
Phillip and Vicki Rhonemus - Jul 29, 2019
Dear Wilson and Extended Wilson Families, Keeping each of you in our thoughts and prayers at this time. We always enjoyed talking to Fern Dee when we attended the WU Presbyterian Church, at the house for some school parties, and as she taught in the local schools. She will be missed. Sincerely,
Nancy Young - Jul 28, 2019
I am Dave Young's widow. I came to know Fern through him. His whole family was so fond of her and shared many stories around the dining room table. I was lucky enough to be invited to her home several times as she hosted get togethers. My deepest sympathies to your family.
Deloris Polley - Jul 28, 2019
Condolence to Fern's family. We've lost another wonderful kind lady. God bless you.
mike thurman - Jul 26, 2019
I am so sorry for the lose of your Mother. Pray for peace during this time.
Christiaan - Jul 26, 2019
Thoughts am prayers to Ferns family. I remember her tenderness, warmth and great laugh. We had some great conversations sitting in the stoop in White Plains about love and life. She was an amazing and loving woman. Angel on earth. Love and peace Fern.
Kathy Rie - Jul 26, 2019
Dear Theresa and family, I am so sorry for your loss. Remember all the good times and she will live in your heart forever.
Pat - Jul 25, 2019
So story for your loss. Will keep the family in my prayers. Mother's, Grandmothers are such wonderful persons and are always missed with so much love
Barb Wilson Milligan - Jul 25, 2019
So sorry for your loss. I have many fond memories of Fern. Such a lovely lady. Love, Barbie
Jay C. Prather - Jul 25, 2019
Wonderful memories of staying at the Wilson house overnight; and in Gatlinburg with the family! Fern always treated me like one of her own children. My thoughts and prayers are with all of her family.