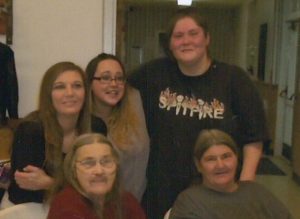 Fay (Jones) Couch
August 9, 1945 - March 17, 2018
Fay (Jones) Couch, 72, of Manchester, Ohio passed away Saturday, March 17, 2018 at Christ Hospital in Cincinnati, Ohio. She was born August 9, 1945 in Indiana. She was preceded in death by her parents, Walter and Haley (Hall) Jones, and husband, Leonard Couch, Sr.

Fay is survived by six children:  Anita Emery and Keith, Rhonda Prater and Mike, Darryl Couch, Leonard Couch, Jr. and Crystal, Sonya Couch, and Larry Couch and Stephanie; one sister, Francis Shelk and James; two brothers: Wayne Jones and Linda, and Johnny Jones; three grandchildren that she raised: Kasey Young, Brooklyn Couch, and Shyla Fardoulis, and 18 additional grandchildren; many great grandchildren; and numerous nieces, nephews, aunts, uncles, and cousins.

The visitation is from 2 until 3 pm on Tuesday, March 27, 2018 at Lafferty Funeral Home in West Union. The funeral service is at 3 pm. Fay will be cremated following the service.