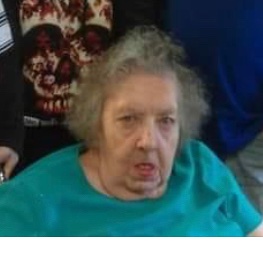 Ethel Day
March 21, 1943 - March 4, 2021


Ethel Day, age 77, of Seaman, Ohio, died Thursday, March 4, 2021 at Monarch Meadows Nursing Center.  Ethel was born March 21, 1943 in Carter County, Kentucky. She is preceded in death by husband, Thomas Day; parents: Henry Everette Davis and Anna Belle Parker; one brother, William Davis and five sisters: Lillian Fite, Arcoma Day, Mary Day, Jenola Burris and Milldred Burris.

She is survived by one daughter, Tina Chamblin of West Union; two granddaughters: Casey Heather Chamblin and Dakota Ann Chamblin, both of West Union; one sister, Amanda Fizer of Aberdeen and several nieces, nephews and cousins.

Those special memories of you, will always bring a smile.

If only I could have you back, for just a little while.

Then we could sit and talk again, just like we used to do.

You always meant so very much and always will.

The fact that you're no longer here will always cause me pain.

But you're forever in my heart, until we meet again.

In lieu of flowers, memorial donations can be made to:

Lafferty Funeral Home Incorporated, P.O. Box 5, West Union, Ohio 45693.

The public visitation is 12 – 2 PM Tuesday, March 9, 2021 at Lafferty Funeral Home Incorporated.

The public funeral is 2 PM Tuesday, March 9, 2021 at Lafferty Funeral Home Incorporated. Pastor Terry Fite will officiate.

The public interment will be at Sunshine Ridge Cemetery 5598 Sunshine Ridge Road, Blue Creek, Ohio 45616.

Due to Covid-19 Regulations, please wear a mask.

Lafferty Funeral Home Incorporated is serving the family.


Condolences
Angela Glancy-Withers - Jun 4, 2021
I am so sorry and praying for my family during this time. I remember when Aunt Annie and Ethyl always came to visit me and Grandma ( Mary Glancy) In Indiana or we came to see them.. memories❤️🙏🏻🌸
Christine Blythe - Mar 8, 2021
So sorry for your loss Tina. Your mommy will be missed.
Angela Roseberry - Mar 6, 2021
R.I.P Aunt Ethel, prayers and hugs for you Tina and your girls.
bonnie mckinney - Mar 6, 2021
so sorry about your lost tina aunt ethel was a good person