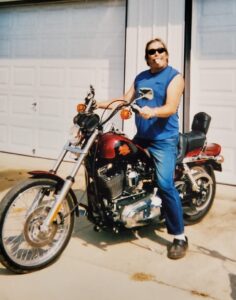 Ernest Wade Walsh
December 28, 1946 - March 25, 2021
Ernest Wade Walsh, age 74, of West Union, Ohio, died Thursday, March 25, 2021 at Monarch Meadows Nursing and Rehabilitation Center in Seaman.  Ernest was born December 28, 1946 in Lebanon. He is preceded in death by his parents, Ernest Walsh and Marjorie Cox, maternal grandparents, Wade and Lessie Cox and one brother, Jerry Scott Coffman.

He is survived by loving wife, Carol Walsh of West Union; two daughters: Deana Walsh of West Union and Michelle (William) Balon of Franklin; four grandchildren: Michael Grooms of Miamisburg, Rebecca Grooms of Fairfield, Curtis (Sadie) Grooms of San Antonio, Texas and Ernest Sean Walsh of Hamilton; two great grandsons: Jaxon Grooms of Georgetown and Matthew Smith of Franklin; one brother, John (Kay) Coffman of Lebanon; one sister, Nancy (Terry) Bercaw of Lebanon; many nieces and nephews and several cousins and friends.

Ernest served in the U.S. Navy on Midway Island during the Vietnam War.  After his time in the military, he worked for Texas Eastern Pipeline Company for many years.  He was an avid coin and gun collector.  He enjoyed hunting and riding his Harley Davidson Motorcycle.

A Grandson's Goodbye: "My Hero passed away; I knew I needed to go see you yesterday pops; something told me too. Now, just 9 hours after I kissed you on the forehead and told you I loved you, you're gone, just like that, and Idk how to handle it, or if I'll ever be the same man again.

I promise I'll talk to you every single day; I love you so very much; thank you papaw, for being my dad, for being my teacher, my best bud, and my absolute hero; I'd be blessed to become just a third of the great man you were. You finally got the peace you deserved.  Goodbye now; you wonderful, wonderful man. Goodbye"

Mr. Walsh will be cremated.  A memorial service will be held at 2 pm Saturday, April 3, 2021 at Walsh's Mountain, 321 Ginger Lane, West Union, Ohio 45693.

Lafferty Funeral Home Incorporated is serving the family.
Condolences
Michelle - Apr 5, 2021
Goodbye Dad, you fought hard and you fought a long battle. Rest now. I sure hope they have coin shops in heaven. Love always, Sis.