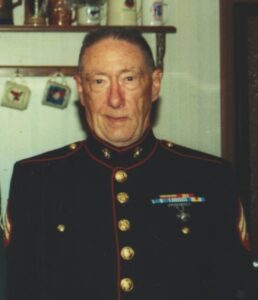 Edward "Ed" Lock
January 5, 1935 - December 27, 2022
Edward "Ed" Lock, 87, of West Union, Ohio passed away on Tuesday, December 27, 2022 at Mercy Health-Anderson Hospital in Cincinnati. He was born January 5, 1935 in Fort Worth, Texas.  He was preceded by parents: Claud and Pearl Lock and one daughter, Karen Groves.

Ed is survived by loving wife, Barb Lock of West Union; two daughters: Mary Jane (Robert) Kempheus of Lewisburg, Ohio and Deborah (Patrick) Robinson of East Berlin, Pennsylvania; four grandchildren: Stephanie, Matthew, Pam and Brian; 14 great grandchildren and many other family and friends.

Ed was a proud U.S. Marine, earning three medals during the Korean Conflict.  He enjoyed using his ham radio, hunting and fishing and had an amazing connection with animals.  He was proud of his family and loved spending time with his wife, children, grandchildren and friends.  He will be dearly missed.

The public visitation is 12 – 2 pm, Tuesday, January 3, 2023 at Lafferty Funeral Home Incorporated, 205 South Cherry Street, West Union, Ohio 45693.

The public funeral is 2 pm, Tuesday, January 3, 2023 at Lafferty Funeral Home Incorporated. Pastor Ron Baker will officiate.

The Adams County Honor Guard will perform a military service.

Mr. Lock will be cremated following the service.

Lafferty Funeral Home Incorporated serves the family.
Condolences
Joyce M Thompson DPM - Jan 3, 2023
Condolences to the Lock family Mr. Lock will be greatly missed. You will be in my thoughts and prayers.
Phil and Vicki Rhonemus - Jan 2, 2023
Dear Lock Families, Keeping you in our thoughts and prayers at this time. I always enjoyed talking to Ed through contacts and driving for the local VA; also as a speaker and preparing for Memorial Day services. He will be missed. Sincerely,
Michael Diehl - Dec 31, 2022
Condolences to all of Ed's family and friends, his memory will live on in all of us.
Mary Kemphues - Dec 31, 2022
I will miss being your computer person. Love you dad. I'm sure you are up there driving your hot rod.