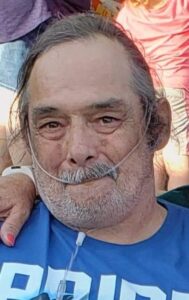 Edward Earl Lawson
April 27, 1957 - November 20, 2020
Edward Earl Lawson, age 63, of Seaman, Ohio, passed away Friday, November 20, 2020 at his residence. He was born April 27, 1957 in Cincinnati.  He was preceded in death by fathers: Ernest Lawson and Weaver Fields; loving wife of 40 years, Sherry Lewis Lawson; grandparents Mollie and Lester Fields, two sons: Christopher Lewis and Edward Lawson, Jr.; grandson, Nathan Lewis; two nieces: Angie and Felicia and one sister in law, Linda Lewis.

Edward is survived by four daughters: Cheryl (Kevin) Bolduc of Michigan, Jammie (Chris) Clifton of Seaman, Vanessa (Josh) Fuson of Winchester and Tabby (Eugene) Mahon of Cherry Fork; one son, James (Jeannie) Lawson of Georgetown; loving mother, Margie Fields of Nancy, Kentucky; two brothers: Ernie (Eli) Lawson of Nancy, Kentucky and Dale Fields of Kentucky; three sisters: Robin Bruin of Somerset, Kentucky, Missy Fields of Ohio and Carly Taphorn of Sharonville, 21 grandchildren, 3 great-grandchildren; four brothers-in-law and three sisters-in-law: Ralph and Debbie Lewis of Kentucky, Roy and Katrina Lewis of Cincinnati and Robert Lewis of Kentucky, Joanna and Robert Roland of Georgetown; several nieces, nephews, cousins and friends.

He was a Vietnam Veteran.  He was a devoted husband, father, grandfather, great grandfather, brother and friend.  He will be dearly missed by all who knew him.

The public visitation is 1-3 pm Monday, November 30, 2020 at Lafferty Funeral Home, 205 South Cherry Street, West Union.

The public graveside funeral is at 4 pm Monday, November 30, 2020 at Moore's Chapel Cemetery, 2646 Wintersteen Run Road, Blue Creek, Ohio 45616.  Pastor Joe Strunk officiating.

The Highland County Honor Guard will perform a Military Service.

Lafferty Funeral Home Incorporated of West Union is serving the family.