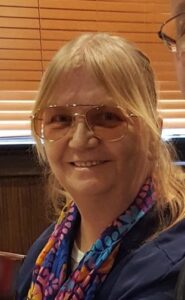 Dorothea Sue (Lay) Henry
April 16, 1958 - November 22, 2022
Dorothea Sue (Lay) Henry, 64, of West Union, Ohio passed away November 22, 2022 at her residence.  She is preceded by parents: Martin Calvin and Mary Anna (Campbell) Lay and two brothers: Michael Lay and Martin Lay

Dorothea is survived by her loving husband, Gary Henry of West Union; one son, Ray (Crystal) Ricketts of Aberdeen; one step son, Justin (Julie) Henry of Colorado; three grandchildren: Dylan (Ashley) Ricketts of Mt. Orab, Tiffany (William) Leasure of Mt. Orab and Morgan Henry of West Union; four great grandchildren: Austin, Blakelynn, and Bryson Ricketts and Merrick Leasure; one brother, Jerry Lay of West Union and two sisters: Debra Sheese of Winchester and Kathy Kidd of Sterns, Kentucky.

Special Thank You to Hospice of Hope and their staff.

Mrs. Henry will be cremated. There are no services at this time.

Lafferty Funeral Home Incorporated serves the family.
Condolences
Phil and Vicki Rhonemus - Dec 5, 2022
Dear Henry Family, Keeping each of you in our thoughts and prayers. Sincerely,
JoAnn. hilderbrand - Dec 1, 2022
Sorry for the family loss. She grew up by me stout her family was my neighbor and friend had many good times and laughs over all the years later we were all gone from there I would get to c her and it was always a good time prayers
West - Nov 30, 2022
Our family will sadly miss our neighbor Mrs. Henry, as we call her. We are very new to the neighborhood, but she was an angel of caring, bringing food to our family for weeks when we were laid off shortly after moving in. We will miss her stopping by to chat, waving when we got the mail at the same time, being our angel. Prayers and condolences to your family. Sincerely, Forrest, Kirsten, Amos, Jeremiah, and Jael West
Jeanne Grooms - Nov 28, 2022
So sorry about Dorothea. I worked with her at Interfaith. Very special person. Sending prayers for the family. 🙏